The market risk framework: 25 years in the making
Keynote speech by Mr William Coen, Secretary General of the Basel Committee, at the ISDA Annual General Meeting, Miami, 25 April 2018.
BCBS speech
 | 
25 April 2018
As prepared for delivery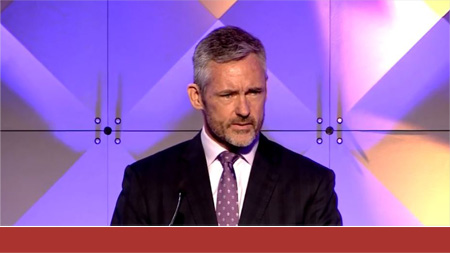 The market risk framework: 25 years in the making (video, 24:45)
William Coen (Secretary General, Basel Committee on Banking Supervision)
25 April 2018, ISDA Annual General Meeting, Miami
Keynote speech on the Basel Committee's work to finalise and implement the revised market risk framework.
Introduction
Good morning, and many thanks for inviting me to speak at this Annual General Meeting.
I was pleased to accept this invitation as there is no shortage of pressing supervisory and regulatory topics to discuss. Closest to home for me is the full, timely and consistent implementation of the recently finalised post-crisis regulatory reforms, most notably the Basel III framework. But I would like to focus today on the issue of market risk.
First, some perspective. Ten years have passed since the start of the global financial crisis. During this period, the Basel Committee has finalised its wide-ranging and comprehensive set of post-crisis reforms. These greatly improve the quality of regulatory capital, increase capital requirements, enhance risk capture, while specifying a minimum leverage ratio requirement, adding a macroprudential overlay, and introducing international liquidity standards (BCBS (2010), (2015a), (2017)).
But, one element of the Committee's post-crisis reform agenda has yet to be fully finalised: the market risk framework. Consider the following excerpt from a Basel Committee document on the market risk framework:
"A common response-has been that the frameworks developed by the Committee for measuring market risk are at the same time complex and inaccurate-the frameworks are further criticised for incorporating a methodology which banks [do not] use...".
This may sound familiar. But it may surprise you to learn that this excerpt is from a 1994 Basel Committee document summarising the comments received on a 1993 consultation paper on "the prudential supervision of netting, market risk and interest rate risk" (Goodhart (2011)).
So, a full quarter-century later, must we lament the finalisation of the market risk framework as one of those never-ending stories? My speech today will try to answer three questions:
why has the Committee revised the market risk framework?
why has it taken so long to complete? and
how do we get the framework finished in a timely manner?