BIS Quarterly Review, December 2022
Triennial Survey results uncover shifts in trading activity in global foreign exchange and over-the-counter derivatives markets and identify risks.

BIS Quarterly Review
|
5 December 2022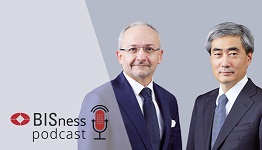 Persistent risks in foreign exchange trades, hidden dollar debt
2 Dec 2022
Media briefing on the BIS Quarterly Review, December 2022
Claudio Borio and Hyun Song Shin brief the media on the key takeaways of the BIS December 2022 Quarterly Review and answer questions about FX markets, liquidity conditions, monetary policy and crypto assets.
Overview
Changes in the anticipated monetary stance and in the economic outlook continued to shape financial markets in the review period.
More...
Special features
Quarterly Review boxes