Asia-Pacific Regional REIT markets and their role in cross-border investment
BIS Quarterly Review
|
September 2020
|
14 September 2020
Investors can access Asia-Pacific property markets by investing in real estate investment trust (REIT) shares listed on major stock exchanges or non-listed REITs. Japan has the largest REIT market by market capitalisation, followed by Australia, Singapore, Hong Kong SAR and Korea (Graph A, first panel). Japan's and Australia's REITs tend to focus almost exclusively on domestic properties. By contrast, REITs listed on exchanges in Hong Kong SAR and Singapore make fairly sizeable allocations to other markets in the Asia-Pacific region. Hence, they play an outsized role in cross-border REIT investment.

Investors from outside Hong Kong SAR constitute the majority of the shareholders in the Hong Kong SAR-listed LINK REIT, the largest in the region (second panel). Asset management firms (such as BlackRock, State Street Global Advisors and Vanguard), custodian banks (such as Bank of New York Mellon) and global institutional investors (including pension and sovereign wealth funds) are the top holders.

Moreover, 14% of LINK REIT portfolio holdings are properties outside Hong Kong SAR (third panel). Singapore also features a bourgeoning REIT market (S-REITs) with a considerable allocation to commercial real estate in other jurisdictions in the region - amounting to some 23% of the portfolios (fourth panel).

This reflects, in part, the preference for Singaporean real estate firms to spin off rental properties into REITs, thus generating capital from REIT offerings that can be redeployed.
Several other jurisdictions are in the process of developing the industry. The Philippines launched a coordinated set of rules on public listing of REITs earlier in 2020, which are also designed, in part, to make REITs more accessible to retail investors. China announced plans in April 2020 to create a public market for REITs, aiming to channel personal savings and private capital into infrastructure projects.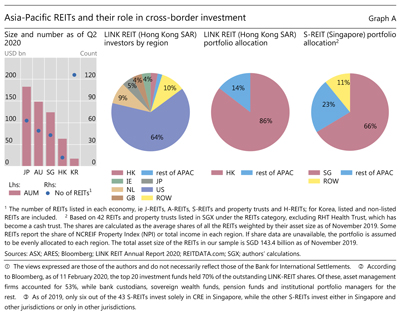 The views expressed are those of the authors and do not necessarily reflect those of the Bank for International Settlements.

According to Bloomberg, as of 11 February 2020, the top 20 investment funds held 70% of the outstanding LINK-REIT shares. Of these, asset management firms accounted for 53%, while bank custodians, sovereign wealth funds, pension funds and institutional portfolio managers for the rest.

As of 2019, only six out of the 43 S-REITs invest solely in CRE in Singapore, while the other S-REITs invest either in Singapore and other jurisdictions or only in other jurisdictions.