Green bonds: features and trends
BIS Quarterly Review
|
September 2019
|
22 September 2019
Green bonds are fixed income securities whose proceeds are used to finance new or existing eligible green projects, eg projects to combat pollution, climate change or the depletion of biodiversity and natural resources (Ehlers and Packer (2017), BIS (2019)). They are either asset-backed or asset-linked, and issuers must declare the types of green projects eligible to receive funds at issuance. Green bonds are the biggest part of the broader universe of socially responsible investments, which include bonds and equities from issuers identified by so-called environmental, social and governance (ESG) standards.

Issuance has grown rapidly in recent years, rising from less than $50 billion in 2014 to close to $230 billion in 2018 (Graph A, left-hand panel). A key catalyst for market development was the 2014 introduction by the International Capital Market Association (ICMA) of the Green Bond Principles (GBPs). The GBPs govern: (i) the use of proceeds; (ii) the process for project evaluation and selection; (iii) the management of proceeds; and (iv) reporting. Bonds meeting the GBPs or the Climate Bond Initiative's (CBI) Climate Bonds Standard (CBS) are eligible for green bond certification by either third-party providers or the CBI. Certification gives comfort to investors that the bonds confer environmental or climate-related benefits, helping to safeguard against "greenwashing".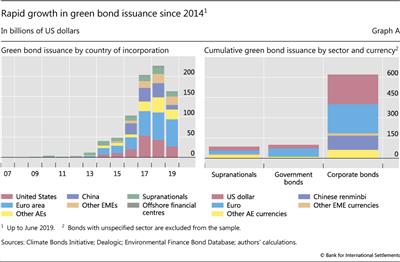 Supranationals and advanced economy issuers initially dominated the market. Corporates (mainly from the financial, utility and industrial sectors), municipals and emerging market issuers, particularly from China, then gained market share. Issuance was typically in the borrower's local currency, predominantly in euros and US dollars, but other currencies, in particular the Chinese renminbi, recently gained in volume (Graph A, right-hand panel). As a result, the green bond market has gone from being predominantly supranational and euro-based to representing a more broadly diversified universe in both issuer and currency terms.

ESG investing is based on the notion that ESG factors are drivers of a company's long-term value, risk and return, and that they signal how sustainable the company is over the long term.

Many jurisdictions have developed their own national taxonomies of what constitutes eligibility as a green bond.