Aktienemissionen und Aktienrückkäufe
BIS Quarterly Review
|
March 2015
|
18. März 2015
(Auszug S. 18-20 des Kapitels "Wichtigste Erkenntnisse zum weltweiten Finanzgeschäft" des BIZ-Quartalsberichts vom März 2015) 
Unternehmen ausserhalb des Finanzsektors haben in den letzten Jahren - brutto gesehen - in grossem Umfang Aktien begeben. Vor dem Hintergrund steigender Aktienkurse nahmen Nichtfinanzunternehmen aus den vier grössten fortgeschrittenen Volkswirtschaften - Euro-Raum, Japan, USA und Vereinigtes Königreich - im Zeitraum 2013/14 neues Aktienkapital in Höhe von $ 625 Mrd. auf, was einem Anstieg um 66% gegenüber den beiden Vorjahren entspricht (Grafik A links). Über die Hälfte davon entfiel auf US-Unternehmen, rund ein Viertel auf Unternehmen des Euro-Raums. 74% des Gesamtbetrags wurden von Unternehmen begeben, die bereits börsennotiert sind (Kapitalerhöhungen; Grafik A Mitte); Erstbegebungen von Aktien (Börsengänge) machten 26% aus, etwa gleich viel wie in den beiden Vorjahren. US-Nichtfinanzunternehmen blieben bei den Börsengängen führend, ihr Anteil ging jedoch recht stark zurück, von rund 70% Ende 2012 auf noch knapp 50% Ende 2014 (Grafik A Mitte, rote Linie). Insbesondere britische Unternehmen legten zu.
Zwar nahmen US-Nichtfinanzunternehmen in hohem Masse Aktienkapital auf, doch ging der netto aufgenommene Betrag tatsächlich zurück, da die Aktienrückkäufe die Neuemissionen überstiegen. Nach einem steilen Anstieg näherten sich die Aktienrückkäufe 2014 denn auch ihrem Höchststand vor der Krise an (Grafik A rechts, rote Linie). Diese Aktienrückkäufe beliefen sich 2013/14 auf fast $ 950 Mrd. Infolgedessen nahm das entsprechende Aktienkapital netto um mindestens $ 610 Mrd. ab (Grafik A rechts, blaue Linie). Diese Zahl ist zudem eine Unterschätzung, denn sie vergleicht das gesamte Aktienkapital, das vom vollständigen US-Unternehmenssektor ohne Finanzunternehmen aufgenommen wurde (aufgezeichnet von Dealogic), mit den Aktienrückkäufen nur derjenigen Nichtfinanzunternehmen, die im Index S&P 1500 enthalten sind. Gemäss der amtlichen US-Flow-of-Funds-Rechnung, die sämtliche Nichtfinanzunternehmen in den USA erfasst und die methodisch breiter abgestützt ist, hat sich das netto neu aufgenommene Aktienkapital 2013/14 tatsächlich noch stärker verringert (Grafik A rechts, blaue gestrichelte Linie).1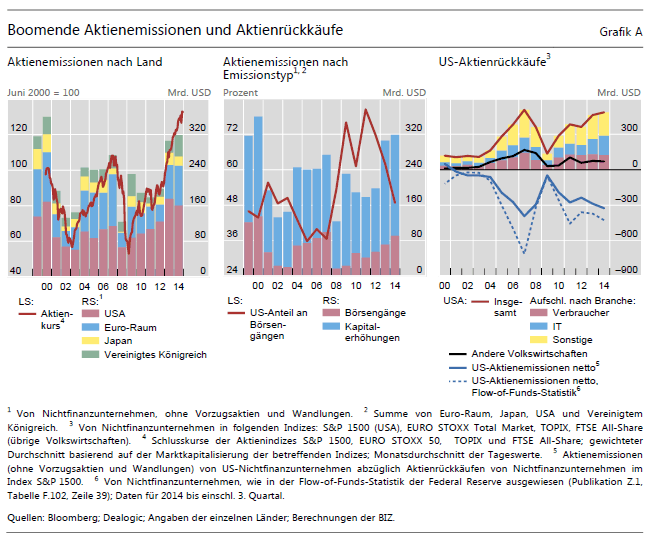 Seit Mitte der 1980er Jahre haben Unternehmen vermehrt zu Aktienrückkäufen anstatt zu Dividenden gegriffen, um den Aktionären Geld auszuschütten.2 Ursprünglich waren hierfür Steuervorteile und Schutz vor feindlichen Übernahmen die Beweggründe. Rückkäufe wurden von der Geschäftsleitung aber auch eingesetzt, um eine Unterbewertung des Unternehmens zu signalisieren.3 Zuletzt standen Aktienrückkäufe eher in Verbindung mit der Vergütungspolitik für die Geschäftsleitung, der Verringerung des freien Cashflows oder auch mit direkter Aktienkursstützung. In den USA haben Aktienrückkäufe nun die aggregierten Dividenden als wichtigste Form von Ausschüttungen überholt. In Europa setzte der aktive Gebrauch von Aktienrückkäufen erst viel später ein. Obwohl sie in den letzten zehn Jahren rascher zunahmen, machen die Aktienrückkäufe europäischer Unternehmen immer noch nur einen Bruchteil des Werts der Rückkäufe von US-Unternehmen aus. Die Rückkäufe von Nichtfinanzunternehmen, die in den marktbreiten Indizes des Euro-Raums, Japans und des Vereinigten Königreichs erfasst sind, beliefen sich 2013/14 insgesamt auf $ 145 Mrd. (Grafik A rechts, schwarze Linie) - fast sieben Mal weniger als für US-Unternehmen. Rund 30% aller Aktienrückkäufe in den USA entfielen auf grosse IT-Unternehmen wie Apple, IBM, Cisco, Oracle und Microsoft (Grafik A rechts).
Ein Boom von Aktienrückkäufen in den USA fiel in der Regel mit einem steigenden Nettoabsatz von Anleihen zusammen, was darauf schliessen lässt, dass die ersteren zumindest teilweise mit den letzteren finanziert wurden. In den vergangenen 15 Jahren kam es zu zwei Phasen rasant zunehmender Aktienrückkäufe: vom 2. Quartal 2002 bis zum 2. Quartal 2007 und vom 1. Quartal 2009 bis zum 4. Quartal 2014 (Grafik B links und Mitte). Der Nettobetrag der in diesen Zeiträumen emittierten Anleihen entwickelte sich parallel zum Gesamtbetrag der Rückkäufe (blaue und rote Linien), und der Absatz wurde durch niedrige oder sinkende Zinssätze noch gefördert (Grafik B rechts). Alles in allem lässt sich aus Grafik B schliessen, dass bei günstigen Finanzierungskosten für Schuldinstrumente und boomenden Aktienmärkten US-Nichtfinanzunternehmen in grossem Umfang Anleihen begeben und einen Teil des Erlöses für die Finanzierung von Aktienrückkäufen verwenden. In den Jahren 2009-14 war der Quartalsdurchschnitt des Nettoabsatzes von Anleihen beinahe doppelt so hoch wie im vorangegangenen Boom (Grafik B links und Mitte, gestrichelte blaue Linien). In diesem Zeitraum kauften US-Nichtfinanzunternehmen Aktien im Wert von $ 2,1 Bio. zurück und nahmen netto über Anleiheemissionen $ 1,8 Bio. auf, verglichen mit $ 1,3 Bio. bzw. $ 850 Mrd. in den Jahren 2002-07.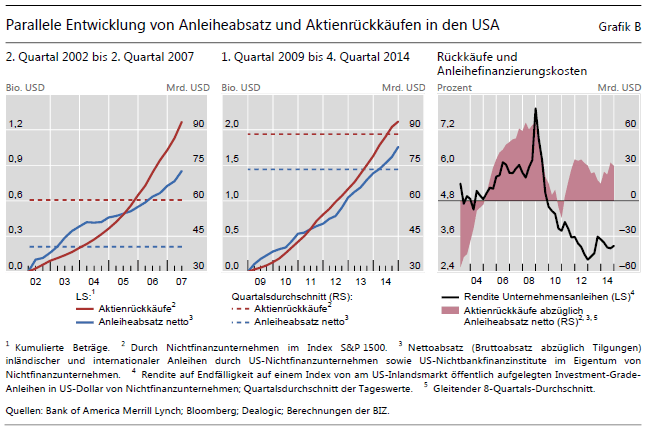 1 In den hier vorgenommenen Berechnungen des Nettoabsatzes sind die Auswirkungen der Ausübung von Aktienoptionen (positiver Nettoabsatz) sowie von Fusionen und Übernahmen, die mit Schuldtiteln oder Barmitteln finanziert wurden (negativer Nettoabsatz), nicht berücksichtigt. Letzteres erklärt vermutlich, warum die Flow-of-Funds-Rechnung der USA einen stärkeren Rückgang der Nettoaktien­emissionen ausweist.
2 Siehe EZB, "Share buybacks in the euro area", Monthly Bulletin, Mai 2007, S. 103-111, sowie D. Skinner, "The evolving relation between earnings, dividends, and stock repurchases", Journal of Financial Economics, Vol. 87, 2008, S. 582-609.
3 Zur "Signalisierungshypothese" siehe T. Vermaelen, "Common stock repurchases and market signalling", Journal of Finance, Vol. 53, 1981, S. 139-183.