L'arretramento dell'attività interbancaria internazionale
BIS Quarterly Review
|
9 marzo 2014
(Riquadro pubblicato alle pagine 6-8 del capitolo "Aspetti salienti delle statistiche internazionali BRI", Rassegna trimestrale BRI, marzo 2014)
La crisi finanziaria mondiale degli anni 2007-09 e le successive tensioni finanziarie nell'area dell'euro hanno lasciato un segno profondo nell'attività interbancaria internazionale1 . Stando alle statistiche bancarie BRI su base locale per residenza, i prestiti interbancari transfrontalieri (comprese le posizioni intragruppo) sono scesi dai $22 700 miliardi di fine marzo 2008 ai $17 000 miliardi di fine settembre 2013. La contrazione, che pure ha interessato gran parte dei paesi a livello mondiale, è stata particolarmente accentuata per i prenditori in Europa, specie nell'area dell'euro. Le attività delle banche dichiaranti alla BRI nei confronti degli istituti nell'area dell'euro sono diminuite in termini cumulati di $2 600 miliardi, ossia del 31% (grafico A, diagramma di sinistra). I prestiti a favore delle banche nel Regno Unito sono calati di $1 700 miliardi (35%). Anche le attività verso le banche negli Stati Uniti e in Svizzera hanno registrato una marcata flessione, rispettivamente di $415 miliardi (16%) e $346 miliardi (42%). Il presente riquadro analizza le forze in gioco, in particolare per quanto concerne gli andamenti nell'area dell'euro.
Le statistiche bancarie BRI su base locale per nazionalità mostrano che le banche con sede legale nell'area dell'euro hanno svolto un ruolo centrale nella riduzione del credito interbancario transfrontaliero, incidendo per oltre due terzi sulla contrazione totale (grafico A, diagramma centrale). La parte restante della flessione è riconducibile in prevalenza alle banche svizzere. Ciò si deve in parte alla specifica modalità operativa adottata da questi istituti per l'attività interbancaria internazionale. In passato le banche dell'area dell'euro e della Svizzera facevano normalmente transitare da Londra gran parte delle loro operazioni internazionali2. Nel periodo 2008-13, tuttavia, tale prassi ha subito un consistente ridimensionamento. Di fatto, la contrazione dell'attività interbancaria transfrontaliera registrata dagli istituti nel Regno Unito è pressoché interamente riconducibile alle banche dell'area dell'euro e della Svizzera, che vi hanno contribuito per $1 100 miliardi in termini cumulati da fine marzo 2008 (grafico A, diagramma di destra, area ombreggiata). Il calo delle operazioni interbancarie transfrontaliere dal Regno Unito ha riguardato soprattutto l'area dell'euro, per quanto riguarda sia i flussi attivi che quelli passivi (grafico A, diagramma di destra, linee blu e rossa).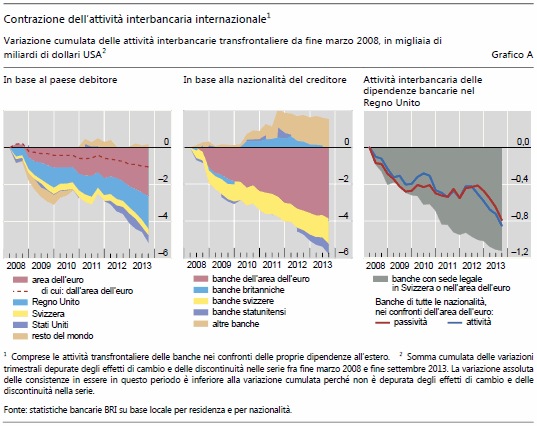 La brusca flessione dell'attività interbancaria internazionale verso l'area dell'euro ha assunto profili diversi a seconda dei paesi, classificabili in tre gruppi in base all'evoluzione seguita dai prestiti bancari transfrontalieri erogati e ricevuti. Il primo gruppo, formato da Belgio, Francia e Paesi Bassi, ha evidenziato una marcata contrazione della raccolta transfrontaliera nel periodo 2008-13, che è coincisa con una contrazione analoga degli impieghi transfrontalieri, per cui le posizioni nette di finanziamento sono rimaste sostanzialmente invariate (grafico B, diagramma di sinistra). All'inizio della crisi finanziaria mondiale le banche in Francia avevano registrato una rapida flessione dei flussi attivi e passivi di credito transfrontaliero, alla quale però è seguita una ripresa tra metà 2009 e metà 2011. Dall'estate 2011 l'acuirsi della crisi finanziaria nell'area dell'euro ha provocato un'altra brusca contrazione della loro attività interbancaria internazionale3.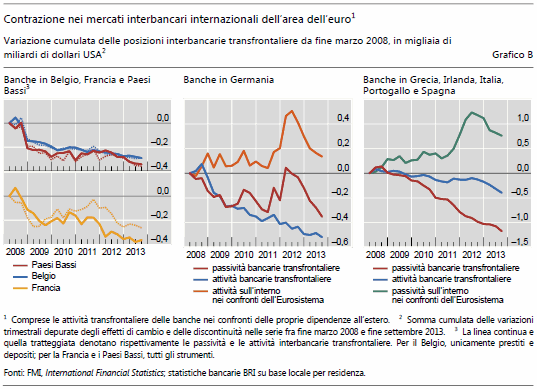 Il secondo gruppo comprende le banche in Germania, destinatarie nette di ingenti finanziamenti interbancari internazionali, specie negli anni 2010-13. Tali istituti hanno registrato una flessione dei prestiti interbancari transfrontalieri sia attivi sia passivi per gran parte del 2008-09 (grafico B, diagramma centrale), ma non in seguito. Allorché nella prima metà del 2010 la crisi finanziaria dell'area dell'euro ha cominciato a ripercuotersi sui mercati, le passività interbancarie transfrontaliere delle banche in Germania sono aumentate, compensando parte del calo cumulato nei due anni precedenti (linea rossa). Al contempo, questi istituti hanno continuato a ridurre le corrispondenti attività (linea blu). Il peggioramento della crisi finanziaria nell'area dell'euro tra giugno 2011 e giugno 2012 ha indotto un ulteriore brusco aumento delle passività interbancarie delle banche in Germania. Tale espansione ha trovato riflesso in un aumento dei depositi detenuti da queste banche presso l'Eurosistema (linea arancione).
Per contro, le banche nei paesi periferici dell'area dell'euro (terzo gruppo) hanno mostrato un marcato calo della raccolta interbancaria transfrontaliera, e un calo più modesto dei prestiti erogati ad altre banche (grafico B, diagramma di destra). Gli afflussi di credito interbancario transfrontaliero verso le banche in Grecia, Irlanda, Italia, Portogallo e Spagna sono diminuiti di $1 200 miliardi in termini cumulati negli anni 2008-13 (linea rossa). L'ingente fabbisogno di finanziamento internazionale che ne è conseguito è stato soddisfatto accrescendo il ricorso al rifinanziamento dell'Eurosistema (linea verde). Di conseguenza, l'Eurosistema si è sostituito al mercato interbancario internazionale quale meccanismo di finanziamento per questi paesi.
1 Cfr. J. Caruana e A. van Rixtel, "International financial markets and bank funding in the euro area: dynamics and participants", pubblicato originariamente in Economistas, dicembre 2012.
2 Cfr. G. von Peter, "I centri bancari internazionali in una prospettiva di rete", Rassegna trimestrale BRI, dicembre 2007 (versione integrale disponibile solo in inglese).
3 Cfr. A. van Rixtel e G. Gasperini, "Financial crises and bank funding: recent experience in the euro area ", BIS Working Papers, n. 406, marzo 2013.