Internationales Interbankgeschäft rückläufig
BIS Quarterly Review
|
9. März 2014
(Auszug S. 7-9 des Kapitels "Wichtigste Erkenntnisse aus den internationalen BIZ-Statistiken" des BIZ-Quartalsberichts vom März)
Die globale Finanzkrise der Jahre 2007-09 und die anschliessenden Spannungen an den Finanzmärkten des Euro-Raums wirkten sich gravierend auf die Refinanzierung am internationalen Interbankmarkt aus. 1 Aus der standortbezogenen Bankgeschäftsstatistik der BIZ nach Sitzland geht hervor, dass das Volumen der grenzüberschreitenden Interbankkredite (einschl. konzerninterner Positionen) von $ 22,7 Bio. Ende März 2008 auf $ 17,0 Bio. Ende September 2013 schrumpfte. Dieser Rückgang machte sich fast weltweit bemerkbar, betraf aber in besonderem Masse Kreditnehmer aus Europa und vor allem aus dem Euro-Raum. So verringerten sich die Forderungen der an die BIZ berichtenden Banken gegenüber Bankniederlassungen im Euro-Raum um insgesamt $ 2,6 Bio. bzw. 31% (Grafik A links), während die Interbankkredite an Institute im Vereinigten Königreich um $ 1,7 Bio. bzw. 35% sanken. Auch die Forderungen an Banken in den USA und der Schweiz schrumpften erheblich, und zwar um $ 415 Mrd. (16%) bzw. $ 346 Mrd. (42%). Im vorliegenden Kasten werden die Hintergründe dieser Entwicklung erörtert, wobei das Hauptaugenmerk auf dem Euro-Raum liegt.
Aus der standortbezogenen Bankgeschäftsstatistik der BIZ nach Nationalität geht hervor, dass Banken mit Hauptsitz im Euro-Raum für mehr als zwei Drittel des Rückgangs der grenzüberschreitenden Interbankkredite verantwortlich waren (Grafik A Mitte). Der Rest entfiel überwiegend auf Schweizer Banken. Die zentrale Rolle, die Banken aus dem Euro-Raum und der Schweiz beim Rückgang des grenzüberschreitenden Interbankgeschäfts spielten, hing teilweise mit der konkreten Ausgestaltung von deren internationalem Interbankgeschäft zusammen.
Diese Banken hatten seit jeher einen grossen Teil ihres internationalen Geschäfts über London abgewickelt.2 In den Jahren 2008-13 wurde von diesem Usus deutlich Abstand genommen. So war das grenzüberschreitende Interbankgeschäft, das den Banken im Vereinigten Königreich in dieser Zeit abhanden gekommen ist, fast gänzlich auf Banken aus dem Euro-Raum und der Schweiz zurückzuführen (insgesamt $ 1,1 Bio. seit Ende März 2008; schattierter Bereich in Grafik A rechts). Dabei betraf die Abnahme der grenzüberschreitenden Interbankgeschäfte aus dem Vereinigten Königreich sowohl im Hinblick auf die Kreditaufnahme als auch in Bezug auf die Kreditgewährung in erster Linie den Euro-Raum (blaue und rote Linien in Grafik A rechts).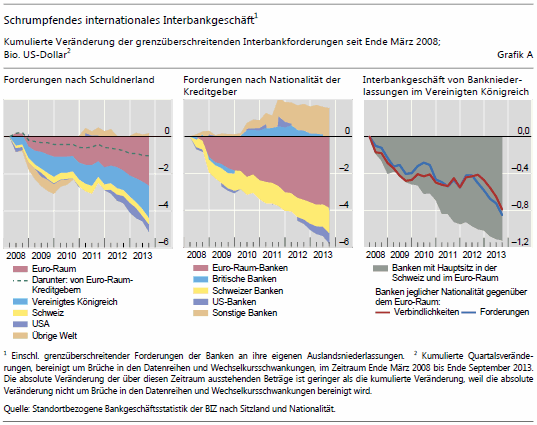 Der starke Einbruch des internationalen Interbankgeschäfts mit dem Euro-Raum insgesamt verlief je nach Land unterschiedlich. Entsprechend der jeweiligen Entwicklung der grenzüberschreitenden Kreditvergabe und Mittelaufnahme der Banken lassen sich die Euro-Länder in drei Gruppen unterteilen. Bei der ersten Ländergruppe, die Belgien, Frankreich und die Niederlande umfasst, war im Zeitraum 2008-13 eine wesentliche Abnahme der grenzüberschreitenden Refinanzierung zu beobachten, die mit einem vergleichbaren Rückgang der grenzüberschreitenden Interbankkreditvergabe einherging, sodass die Nettofinanzierungspositionen hier im Wesentlichen unverändert blieben (Grafik B links). In Frankreich fiel die grenzüberschreitende Aufnahme und Vergabe von Interbankkrediten während der globalen Finanzkrise zunächst rapide ab, erholte sich aber von Mitte 2009 bis Mitte 2011 wieder. Als sich die Finanzkrise im Euro-Raum ab dem Sommer 2011 verschärfte, ging das internationale Interbankgeschäft dieser Banken jedoch erneut stark zurück.3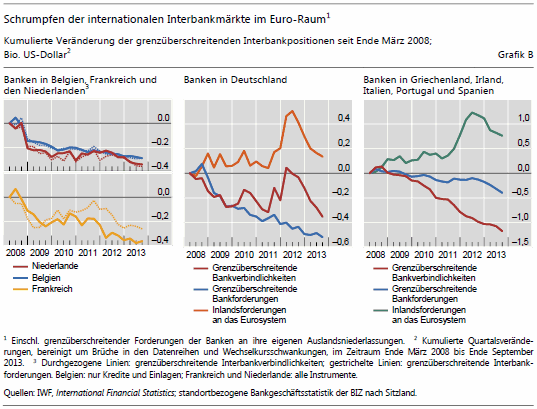 Zur zweiten Gruppe zählen die Banken in Deutschland, die insbesondere von 2010 bis 2013 als bedeutende Nettokreditnehmer am internationalen Interbankmarkt auftraten. In den Jahren 2008/09 war sowohl die Aufnahme als auch die Vergabe grenzüberschreitender Interbankkredite durch deutsche Banken überwiegend rückläufig, in den Jahren danach aber nicht mehr (Grafik B Mitte). Als die Finanzkrise im Euro-Raum in der ersten Jahreshälfte 2010 die Finanzmärkte erreichte, stiegen die grenzüberschreitenden Interbankverbindlichkeiten der deutschen Banken an und machten dadurch den kumulierten Rückgang der vorangegangenen zwei Jahre teilweise wieder wett (rote Linie). Zugleich schränkten die deutschen Banken ihre grenzüberschreitende Interbankkreditgewährung weiter ein (blaue Linie). Mit der Verschärfung der Finanzkrise im Euro-Raum von Juni 2011 bis Juni 2012 stiegen die Interbankverbindlichkeiten der deutschen Banken erneut stark an. Zugleich stockten sie ihre beim Eurosystem gehaltenen Einlagen auf (orange Linie).
Demgegenüber brach in der dritten Ländergruppe, den Peripherieländern des Euro-Raums, die grenzüber­schreitende Refinanzierung der Banken am Interbankmarkt stark ein, während ihre Kreditvergabe weniger stark zurückging (Grafik B rechts). So verringerte sich die grenzüberschreitende Interbankkreditaufnahme griechischer, irischer, italienischer, portugiesischer und spanischer Banken im Zeitraum 2008-13 zusammenge­nommen um $ 1,2 Bio. (rote Linie). Dadurch ergab sich eine grosse internationale Finanzierungslücke, die durch eine verstärkte Kreditaufnahme beim Eurosystem geschlossen wurde (grüne Linie). Somit ist das Eurosystem für diese Länder als Refinanzierungsquelle an die Stelle des internationalen Interbankmarktes getreten.
1 Siehe J. Caruana und A. van Rixtel, "International financial markets and bank funding in the euro area: dynamics and participants ", ursprünglich erschienen in Economistas, Dezember 2012.
2 Siehe G. von Peter, "International banking centres: a network perspective" (nur in Englisch verfügbar), BIZ-Quartalsbericht, Dezember 2007.
3 Siehe A. van Rixtel und G. Gasperini, "Financial crises and bank funding: recent experience in the euro area", BIS Working Papers, Nr. 406, März 2013.