Organisation and governance - overview
Organisation
The BIS has three main departments, two of which encompass our two principal activities - policy analysis and banking - and one which provides general internal support.
Undertakes research and analysis on central bank policy issues, provides committee support and organises meetings of senior central bankers and other officials in charge of financial stability. In addition, the department collects, analyses and disseminates statistical information on the international financial system.
Provides a range of financial services to support central banks in the management of their foreign exchange and gold reserves and invests the equity of the BIS. See more about Banking Department
Supports the entire organisation with corporate services, including human resources, facilities management, security, finance, communications and IT.
These departments are supported by the Legal Service and the Risk Management, Internal Audit and Compliance units.
Working alongside the three main departments is the BIS's Financial Stability Institute, which supports the implementation of global regulatory standards and sound supervisory practices by central banks and financial sector regulatory and supervisory authorities worldwide.
Staff and offices
We currently employ about 600 staff members from more than 60 countries, most of whom work at our headquarters in Basel, Switzerland. We also have two regional offices:
Governance of the BIS
The governance of the Bank is exercised at three levels as determined by its Statutes: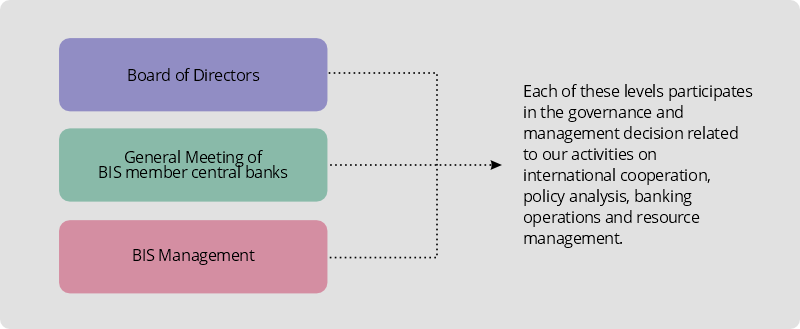 Governance of BIS committees
The BIS hosts six committees, which are overseen by three senior groupings in the context of the Basel Process.
Governance of BIS-hosted associations
The BIS hosts three associations that also participate in the Basel Process: the Financial Stability Board, the International Association of Insurance Supervisors and the International Association of Deposit Insurers. Each has a separate legal identity and its own governance arrangement.