The BIS's Basel buildings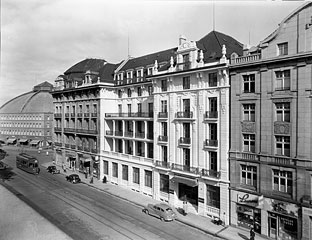 Grand Hôtel et Savoy Hôtel Univers 1930-77
The BIS originally rented the Grand Hôtel et Savoy Hôtel Univers at Centralbahnstrasse 7, Basel for only two years. As it turned out, the Bank remained there until 1977, spreading out into offices in several adjacent buildings as more space was needed.
The BIS briefly left these premises during the Second World War. The Swiss authorities had made evacuation plans for border areas such as Basel in the event of invasion. In May 1940, as this threat from Germany appeared imminent, the BIS moved its headquarters to Château d'Oex (Vaud), remaining there until that October.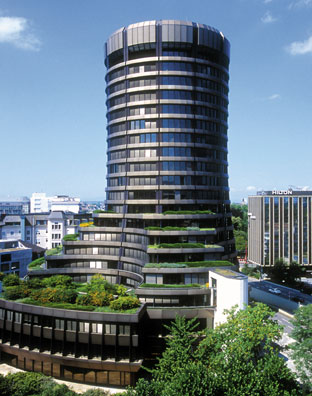 The Tower
Eventually it became clear that the original premises could no longer accommodate the Bank's expanding staff and activities. Between 1966 and 1972 the BIS progressively acquired the land upon which the Tower stands today. In 1969 the Bank's architect, Martin Burckhardt, submitted three designs for a new building to the BIS Board of Directors from which they selected a round tower, 82 metres in height comprising 24 storeys.
This design, however, was never implemented. The Basel chapter of the Schweizer Heimatschutz (Swiss Heritage Society) objected that the height of the proposed tower would disturb Basel's historic skyline. The original design had to be modified, reducing the height to 69.5 metres and the number of floors above ground to 20. In a public referendum in 1971, 69% of voters favoured the new design. The BIS opened for business in the Tower in March 1977.
A substantial increase in the BIS's activities, membership and staff have continued to put pressure on office space. In 1997, an architectural competition for a possible redesign of the Tower and other properties on the site was won by the Japanese firm Toyo Ito and Associates. Plans for redeveloping the Tower site were not initiated, however, as a new opportunity arose for resolving BIS office constraints with far less disruption to daily activities.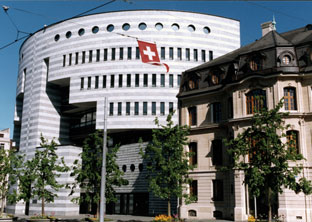 The Botta building
In 1998 UBS sold its building on Aeschenplatz, Basel, to the BIS, together with the connected neo-baroque villa. After extensive internal renovation, BIS banking, risk control and IT services were transferred to the new premises in 1999.
The building was designed by the renowned Swiss architect Mario Botta for a competition held in 1986 to develop new premises in Basel for UBS. His design takes the form of a "Rundecke", a "rounded corner" set back from the street to avoid dominating the airy and open Aeschenplatz. The building has six storeys above ground, hiding another six below.
---