About the BIS Innovation Hub

The BIS Innovation Hub develops public goods in the technology space to support central banks and improve the functioning of the financial system. We have centres around the world and a global network of central bank experts on innovation.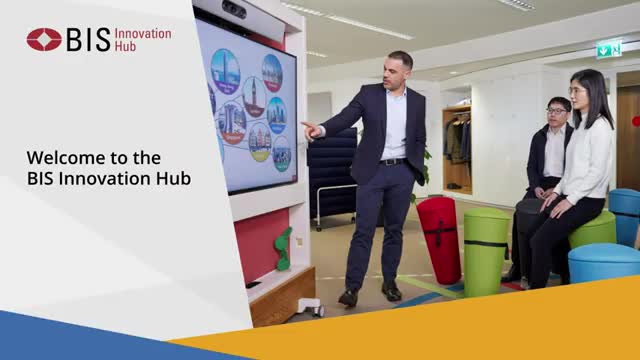 The BIS Innovation Hub
(00:03:31)
Technological innovation is revolutionising global financial markets. The BIS Innovation Hub helps central banks harness the power of technology to address problems in the financial sector and promote monetary and financial stability.
BIS Innovation Hub consolidates expansion, announces priorities for 2023
In 2023, the BIS Innovation Hub will increase its focus on improving payments systems and experimenting with central bank digital currencies (CBDC); on shaping the future of financial regulation and supervision; and on greening and securing the financial sector. This year's work programme also includes Project Pyxtrial, a new experiment being launched by the Hub's London Centre to enable the systemic monitoring of stablecoins.
Going into its fourth year of life, the BIS Innovation Hub is reaching a cruising altitude, with 21 ongoing and five concluded projects. The Hub will increase the integration of its global network with additional cross-centre projects such as Mariana, which connects the Singapore, Swiss and Eurosystem centres, and others.
The BIS Innovation Hub recently continued its expansion with the opening of the Eurosystem Centre on 28 March 2023. The Eurosystem Centre, hosted and supported by the Deutsche Bundesbank, the Banque de France and the European Central Bank, works with all euro area central banks. The Centre's initial focus areas are CBDC (Mariana), cyber security (Leap), green finance (Gaia) and cryptoassets & decentralised finance (Atlas). Read more about the Eurosystem Centre here
In terms of output, the BISIH has developed a wide range of technological solutions to problems of relevance to central banks. These solutions take the form of proofs-of-concepts (PoC), prototypes or minimum viable products. They are shared via various communications channels, technical reports and software made available on the BIS Open Tech platform.
CBDCs and improvements in payments systems continue to be a key area of exploration, accounting for 15 of the 26 projects that were active in in the last couple of years. This emphasis reflects the interests and priorities of central banks and the G20 countries' programme to improve cross-border payments.
Building on the knowledge gained from wholesale CBDC projects (eg Helvetia), the Hub is now experimenting more with retail CBDCs, for example, on the technology architecture of a two-tiered distribution model (Aurum); on the distribution of retail CBDC through an open API ecosystem (Rosalind); and examining cyber security (Polaris, Sela), resilience (Polaris) and scalability and privacy (Tourbillon).
Ongoing experiments are also showing how wholesale and retail CBDCs (Icebreaker), as well as the interconnection of domestic payments systems (Nexus) can deliver faster, cheaper and more transparent cross-border payments. Three multi-CBDC experiments (Jura, Dunbar, mBridge) have demonstrated that common platforms with various digital currencies are technically feasible and offer benefits such as lower cost, faster settlement, and operational transparency. Automated market-makers for foreign exchange using CBDCs are also being explored (Mariana).
Other improvements in payments are being explored with a focus on payment synchronisation (Meridian), on a data-driven approach to combatting money laundering across firms and across borders (Aurora), and novel liquidity saving mechanisms (Titus).
Another area of focus is on projects aiming to shape the future of regulation, supervision and finance. For example, the development of tools for monitoring financial markets in real time (Rio and Samba), cryptocurrencies and decentralised finance (Atlas) and other regulatory purposes (Ellipse). Technological innovation in corporate digital identity has been examined while specific use cases for the supervision of financing for small and medium-sized enterprises (Dynamo) are being explored.
Pyxtrial, a new project in the London Centre, aims to develop a platform to monitor stablecoin's balance sheets. Most central banks lack tools to systemically monitor stablecoins and avoid asset-liability mismatches. The project will investigate various technological tools that may help supervisors and regulators to build policy frameworks based on integrated data.
Projects on greening and securing the financial system seek to improve climate-related data availability (Gaia) and analysis (Viridis), as well as develop concrete digital solutions to the trading of green bonds (Genesis 1.0 and 2.0). Additionally, the cyber security portfolio has been growing with several projects (Sela, Polaris) that explore the cyber resilience of CBDC, as well as projects that focus on the Secure Coding Competition and quantum-resistant cryptography (Leap).
Beyond its project portfolio, the BIS Innovation Hub will continue to advance other key initiatives including the BIS Innovation Network. The third BIS Innovation Summit, "Technological innovation in the age of uncertainty" will be held in Basel Switzerland on 21-22 March 2023, bringing together senior leaders from the public and private sector and academia.
The BIS Innovation Hub Management team

Cecilia Skingsley


Head of BIS Innovation Hub


Ross Leckow
Head, Strategy and Operations; Deputy to the Head of the BIS Innovation Hub

Raphael Auer
Head of the Eurosystem Centre

Bénédicte Nolens
Head of the Hong Kong Centre

Francesca Hopwood Road
Head of the London Centre

Beju Shah
Head of the Nordic Centre

Maha El Dimachki
Head of the Singapore Centre

Morten Bech
Head of the Switzerland Centre

Miguel Díaz
Head of the Toronto Centre
The BIS Innovation Hub Secretariat
The Innovation Hub Secretariat is based in the BIS headquarters in Basel. It oversees the Hub's operations and development of its work programme; develops policies and procedures; and prepares background notes for BIS Management and the BIS governing bodies.
The BIS Innovation Hub locations
We have multidisciplinary teams located in Hong Kong SAR, Singapore, Switzerland, London and Stockholm and will soon open centres in Toronto and Frankfurt/Paris.
♦ Eurosystem: Opened in 2023. It is a joint effort by the BIS and all Eurosystem central banks.
♦ Hong Kong: Established in 2019. Its current projects are in the areas of CBDC, open finance and green finance.
♦ London: Started operations in 2021 in partnership with the Bank of England. First projects focus on CBDC and next-generation Financial Market Infrastructures.
♦ Singapore: Established in 2019. Its projects have focused on suptech/regtech, CBDC and next-generation Financial Market Infrastructures.
♦ Stockholm: Opened in 2021 in collaboration with the central banks of Denmark, Iceland, Norway and Sweden. Initial projects focusing on CBDC.
♦ Switzerland: Operating since 2019, with projects on CBDC, cyber security, suptech/regtech and next-generation Financial Market Infrastructures.
The BIS has also formed a strategic partnership with the Federal Reserve System in New York.
Contact us

BIS Innovation Hub
Bank for International Settlements
CH-4002 Basel, Switzerland



Tel: +41 61 280 8498
Email: Service.BISIH_Office@bis.org