Il deflusso di capitali dalla Cina per il tramite delle banche dichiaranti alla BRI nel primo trimestre 2015
BIS Quarterly Review
|
September 2015
|
13 settembre 2015
(Riquadro pubblicato alle pagine 18-20 del capitolo "Aspetti salienti dei flussi di finanziamento internazionali", Rassegna trimestrale BRI, settembre 2015) 
Si parla molto del deflusso di capitali dalla Cina, spesso sulla scorta di analisi incentrate su un apparente calo delle riserve valutarie ufficiali. Le analisi di questo tipo, tuttavia, trascurano le variazioni di valutazione dovute alle oscillazioni del dollaro/euro. Le riserve ufficiali, inoltre, possono essere utilizzate per finanziare investimenti in dollari, ad esempio in nuove banche multilaterali di sviluppo1 .
Le statistiche bancarie BRI su base locale evidenziano effettivamente per il primo trimestre 2015 un deflusso netto di $109 miliardi dalle banche in Cina verso banche fuori dalla Cina. Tale andamento ha esercitato pressioni al ribasso sul renminbi e, data la rigida gestione del tasso di cambio, sulle riserve ufficiali. Questo riquadro mostra come il venir meno degli incentivi a detenere posizioni lunghe in renminbi abbia dato luogo nel primo trimestre a un deflusso netto che ha riguardato capitali sia in valuta estera sia in renminbi. Tali risultati forniscono indicazioni su cosa attendersi per il terzo trimestre, durante il quale la Cina ha modificato la politica di cambio.
Nel primo trimestre gli incentivi a detenere posizioni lunghe in renminbi e corte in dollari si sono ridotti. Le autorità cinesi hanno infatti proseguito il ciclo di allentamento avviato in novembre tagliando i tassi amministrati sui depositi. Successivamente hanno lasciato che il renminbi si deprezzasse, passando da meno di 6,2 a oltre 6,25 dollari a metà marzo. Di conseguenza, è aumentata la volatilità implicita nelle opzioni. In breve, il differenziale di tasso di interesse si è ristretto e il costo da sostenere per cautelarsi da ulteriori deprezzamenti è aumentato, riducendo gli incentivi a detenere posizioni lunghe in renminbi.
A titolo illustrativo, si consideri un'ipotetica società multinazionale cinese avente parte delle sue operazioni in Cina e parte all'estero2. In Cina la società si indebita e colloca depositi sia in renminbi sia in valuta estera e il suo debito in valuta estera supera i suoi depositi in valuta. Anche al di fuori della Cina il debito in moneta estera della società supera i depositi in valuta, ma i suoi depositi in renminbi sono maggiori del debito nella stessa moneta.
Se di fronte al venir meno degli incentivi tale multinazionale avesse deciso di ridurre le proprie posizioni lunghe nella moneta cinese, come avrebbe proceduto? Essa avrebbe dovuto ridurre le passività nette in valuta estera e al contempo conservare i depositi in renminbi, ad esempio in Cina. La People's Bank of China (PBoC) segnala che i depositi in valuta estera presso le banche cinesi sono aumentati di $83 miliardi nel primo trimestre, mentre la crescita dei prestiti bancari in valuta estera si è ridotta ad appena $34 miliardi3. Pertanto l'ipotetica multinazionale potrebbe aver ridotto il debito netto in valuta estera accumulando depositi in valuta estera in Cina. Le banche in Cina hanno di fatto registrato un afflusso netto di valuta estera per $49 miliardi. Qualora le banche in Cina avessero a loro volta collocato la provvista eccedente in valuta estera presso banche nel resto del mondo, le banche dichiaranti alla BRI avrebbero dovuto registrare un corrispondente aumento delle passività verso le banche in Cina. E difatti le passività delle banche dichiaranti alla BRI verso banche in Cina sono aumentate di $46 miliardi nel primo trimestre.
Alternativamente, la multinazionale avrebbe potuto modificare le proprie posizioni all'estero, ad esempio riducendo i depositi in renminbi presso una banca offshore. In effetti i depositi totali in renminbi detenuti presso banche a Hong Kong SAR, Taipei Cinese, Singapore e Corea sono diminuiti di $10 miliardi nel primo trimestre 2015 (grafico A). La multinazionale avrebbe anche potuto liquidare note strutturate collegate al cambio renminbi/dollaro che richiedono alla controparte di detenere renminbi a copertura del rischio di oscillazioni nel valore della valuta di denominazione delle note. Un'operazione di questo tipo non sarebbe rilevata dai dati sui depositi non bancari. La PBoC ha tuttavia cominciato a segnalare i depositi in renminbi totali collocati dal resto del mondo presso le banche in Cina4. Stando ai dati della PBoC, i depositi di questo tipo si sono contratti di $57 miliardi, una flessione che rifletterebbe sia la riduzione di $10 miliardi dei depositi in renminbi sia quella della domanda di renminbi delle banche, dovuta a operazioni con la clientela o all'investimento di fondi propri. Quale che ne sia il motivo, questo deflusso di $57 miliardi di renminbi corrisponde alla maggior parte del calo di $63 miliardi delle attività verso banche in Cina registrato dalle banche dichiaranti alla BRI.
Accumulando depositi in valuta estera in Cina ($49 miliardi) e riducendo le posizioni lunghe in renminbi al di fuori della Cina ($57 miliardi), l'ipotetica multinazionale potrebbe aver effettuato operazioni tali da dare luogo al deflusso netto di quasi $109 miliardi dalle banche in Cina. Il fatto che gran parte dei capitali defluiti fossero denominati in renminbi attesta dell'accresciuto impiego transfrontaliero della moneta cinese, che è dipeso tuttavia dalla presenza di differenziali di rendimento e di aspettative valutarie favorevoli.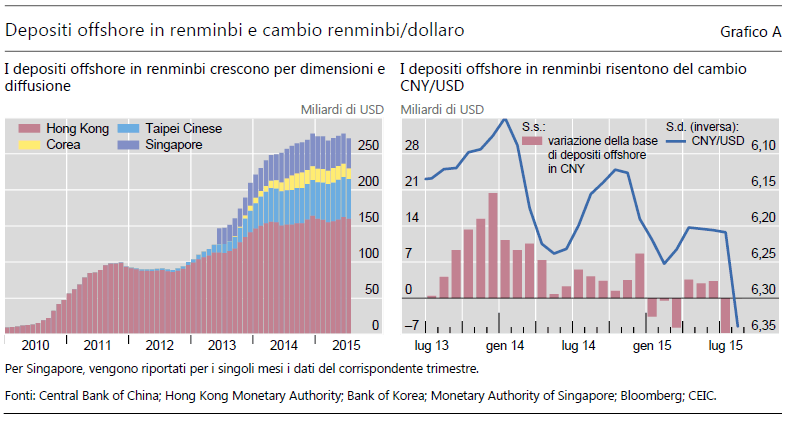 Naturalmente la realtà è molto più complessa di quanto possa indicare l'esempio di un singolo operatore che modifica le proprie posizioni in renminbi/dollari da entrambi i lati del confine. I soggetti non bancari cinesi hanno di fatto mutuato ulteriori $17 miliardi nel trimestre in esame da banche dichiaranti alla BRI. Queste operazioni rappresentano un afflusso di capitali, per cui il deflusso netto da banche e soggetti non bancari in Cina nel primo trimestre è stato pari a $102 miliardi. Inoltre, anche altri soggetti, come piccole e medie imprese a Hong Kong SAR e Taipei Cinese, detenevano posizioni lunghe in renminbi e corte in dollari e potrebbero averle liquidate nel trimestre in esame5.
I dati del secondo trimestre indicano che questi movimenti si sono in parte invertiti nel contesto di stabilità del cambio renminbi/dollaro. In Cina le passività nette in valuta estera sono aumentate di $19 miliardi. I dati della PBoC segnalano un recupero di $15 miliardi dei depositi in renminbi collocati in Cina dal resto del mondo, che rifletterebbe in parte l'aumento di $10 miliardi dei depositi offshore nel secondo trimestre (grafico A, diagramma di destra).
Nel terzo trimestre stanno diminuendo gli incentivi a detenere posizioni lunghe in renminbi e corte in dollari. Il nuovo taglio dei tassi sui depositi ha ulteriormente ristretto il vantaggio in termini di rendimento del renminbi e la riforma della gestione del tasso di cambio ne ha accresciuto la volatilità. Il rapporto rischio-rendimento è pertanto peggiorato, riducendo l'incentivo a detenere posizioni lunghe in renminbi e corte in dollari.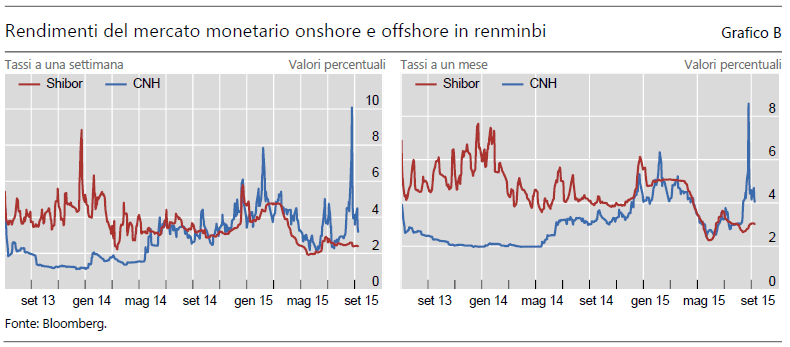 Dall'andamento dei rendimenti emergono effettivamente le prime evidenze della liquidazione di depositi offshore in renminbi (grafico B). Il 25 agosto, al culmine della recente turbolenza nei mercati azionari e valutari (cfr. "Riflettori puntati sulle vulnerabilità delle economie emergenti", Rassegna trimestrale BRI, settembre 2015), i tassi di interesse interbancari del renminbi offshore (CNH) a Hong Kong hanno raggiunto i livelli senza precedenti del 10.1% per la scadenza a una settimana e dell'8,6% per quella a un mese, rafforzando le indicazioni di cessioni del renminbi. I dati di agosto sui depositi e i prestiti in valuta delle banche cinesi e sui depositi offshore forniranno i primi elementi per valutare la reazione suscitata dal mutato profilo di rischio-rendimento delle posizioni lunghe in renminbi.
---
1 H. Zhu, "China: the myth of capital outflows", JPMorgan Asia-Pacific Economic Research, 28 luglio 2015, stima una flessione corretta di $15 miliardi delle riserve cinesi fra giugno 2014 e giugno 2015.
2 V. Bruno e H. S. Shin, "Global dollar credit and carry trades: a firm-level analysis", BIS Working Papers, n. 510, agosto 2015.
3 Cfr. PBoC, "Financial statistics, Q1 2015".
4 Collocamenti di banche di clearing designate presso la PBoC o di banche offshore presso banche in Cina. See W Nixon, E Hatzvi and M Wright, "The offshore renminbi market and renminbi internationalization", in L Song, R Garnaut, C Fang and L Johnston (eds), China's domestic transformation in a global context, ANU Press, 2015, page 276, for a list of clearing banks.
5 W. Gu e A. Trivedi, "Yuan's devaluation brings losses for some", Wall Street Journal, 18 agosto 2015.