Die Rückkehr der japanischen Banken
BIS Quarterly Review
|
September 2013
|
4. Oktober 2013
(Auszug S. 9-10 des Kapitels "Wichtigste Erkenntnisse aus den internationalen BIZ-Statistiken" des BIZ-Quartalsberichts vom September 2013)
Die japanischen Banken sind seit Kurzem bei der grenzüberschreitenden Kreditvergabe wieder weltweit führend. Aus der konsolidierten Bankgeschäftsstatistik der BIZ geht hervor, dass die japanischen Banken 2011 die deutschen Banken als weltweit grösste internationale Kreditgeber abgelöst haben. Ihr Anteil an den konsolidierten internationalen Forderungen aller BIZ-Berichtsbanken stieg von 8% Anfang 2007, vor Ausbruch der globalen Finanzkrise, auf 13% Ende März 2013. Auf konsolidierter Basis waren Ende März 2013 die US-Banken mit einem Anteil von rund 12% die zweitgrössten grenzüberschreitenden Kreditgeber, gefolgt von den deutschen Banken mit 11%.1
Damit eroberten die japanischen Banken ihre Führungsposition im internationalen Bankgeschäft zurück, die sie in der zweiten Hälfte der 1980er Jahre innegehabt hatten. Gemäss der standortbezogenen Bankgeschäftsstatistik der BIZ, welche konzerninterne Positionen einschliesst, erreichte der Anteil der japanischen Banken an den grenzüberschreitenden Forderungen sämtlicher BIZ-Berichtsbanken im Jahr 1989 mit vollen 36% seinen Höhepunkt (Grafik A links).2 Damals finanzierten japanische Banken Kredite an inländische Kreditnehmer über ihre Auslandsniederlassungen, um nationale regulatorische Beschränkungen zu umgehen.3 Darüber hinaus gewährten sie in grossem Umfang Unternehmens- und Industriekredite an Schuldner in den USA und in aufstrebenden Volkswirtschaften, insbesondere innerhalb Asiens.4 Durch die gravierende Bankenkrise der 1990er Jahre und die Bankenderegulierung in Japan kehrte sich die Ausweitung der grenzüberschreitenden Kreditvergabe japanischer Institute jedoch jäh um. 2007 erreichte ihr Marktanteil einen Tiefstand und begann sich danach wieder zu erholen.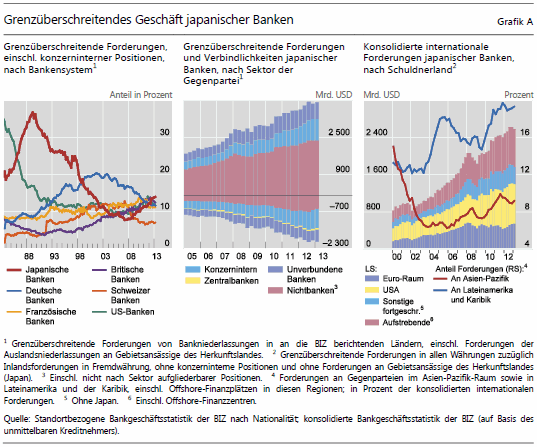 Die jüngste Ausweitung der grenzüberschreitenden Kreditvergabe japanischer Banken ist auf ein stärkeres Engagement in Offshore-Finanzzentren, aufstrebenden Volkswirtschaften und den USA zurückzuführen (Grafik A rechts). Dabei wurden im Offshore-Geschäft vor allem die grenzüberschreitenden Forderungen gegenüber karibischen Finanzzentren aufgestockt, während die Mittel aus der zusätzlichen Kreditvergabe in den aufstrebenden Volkswirtschaften in erster Linie an Schuldner in Asien und Lateinamerika flossen. Infolgedessen stiegen die Forderungen japanischer Banken an Schuldner in der Region Lateinamerika und Karibik Ende März 2013 auf fast 20% ihrer konsolidierten internationalen Forderungen, verglichen mit 15% Ende 2009 (Grafik A rechts). Demgegenüber sank der Anteil der Forderungen an fortgeschrittene Volkswirtschaften auf zuletzt 68%, nachdem er Ende 2009 einen Spitzen¬wert von 74% erreicht hatte. Dies hing vor allem mit dem Rückzug japanischer Banken aus dem Euro-Raum zusammen, wenngleich ihre konsolidierten internationalen Forderungen gegenüber dieser Region seit dem zweiten Quartal 2012 wieder allmählich zunehmen.
Aus der standortbezogenen Bankgeschäftsstatistik der BIZ geht hervor, dass der Terraingewinn japanischer Banken bei der grenzüberschreitenden Kreditvergabe vorwiegend durch Mittelquellen in Japan refinanziert wurde. Während ihre grenzüberschreitenden Forderungen im ersten Quartal 2013 auf $ 4 Bio. kletterten, belief sich die grenzüberschreitende Refinanzierung auf nur $ 2 Bio. (Grafik A Mitte). Daraus ergibt sich eine grenzüberschreitende Finanzierungslücke in Höhe von $ 2 Bio., die durch nationale Mittelquellen geschlossen werden muss; dies geschieht vorrangig über die umfangreiche Einlagenbasis.5 Grenzüberschreitend refinanzieren sich die japanischen Banken hauptsächlich über Nichtbanken.
Teilweise erfolgte die regere grenzüberschreitende Kreditvergabe der japanischen Banken durch eine intensivere Nutzung globaler Filialnetze. Im Gefolge der Bankenkrise der 1990er Jahre waren viele Auslandsniederlassungen geschlossen oder verkleinert worden, und ihr grenzüberschreitendes Geschäft war zunehmend von Japan aus getätigt worden. Auf diese Weise erreichte der Anteil der im Inland verbuchten grenzüberschreitenden Forderun¬gen an den gesamten grenzüberschreitenden Forderungen japanischer Banken 2008 einen Spitzenwert; seither ist er jedoch kontinuierlich zurückgegangen. Im Gegenzug haben die grenzüberschreitenden Forderungen, die in Niederlassungen japanischer Banken in den USA und anderen fortgeschrittenen Volkswirtschaften verbucht werden, deutlich zugenommen.
---
1 Diese Zahlen beinhalten keine Inlandsforderungen in Landeswährung, d.h. Kredite von Tochtergesellschaften japanischer Banken im Land des Schuldners. Werden Inlandsforderungen berücksichtigt, betrug der Marktanteil japanischer Banken auf Basis der konsolidierten Auslands forderungen Ende März 2013 10%, verglichen mit 13% für britische, 11% für US- und 9% für deutsche Banken.
2 Für die 1980er Jahre liegen keine vergleichbaren konsolidierten Statistiken vor, da sie vor 1999 keine Forderungen gegenüber den BIZ-Berichtsländern enthielten.
3 H. Terrell, R. Dohner und B. Lowrey, "The United States and United Kingdom activities of Japanese banks, 1980-1988", North American Review of Economics & Finance, Nr. 1(1), 1990, S. 53-73; A. van Rixtel, Informality and monetary policy in Japan: the political economy of bank performance, Cambridge University Press, 2002.
4 R. McCauley und R. Seth, "Foreign bank credit to US corporations: the implications of offshore loans", Federal Reserve Bank of New York Quarterly Review, Frühjahr 1992, S. 52-65; R. McCauley und S. Yeaple, "How lower Japanese asset prices affect Pacific financial markets", Federal Reserve Bank of New York Quarterly Review, Frühjahr 1994, S. 19-33.
5 Rein inländische Positionen werden im Rahmen der Verbesserungen der BIZ-Statistiken zum internationalen Bankgeschäft künftig erfasst werden.