Different causes for recent bank downgrades
BIS Quarterly Review
 | 
12 December 2011
(Extract from pages 8-9 of BIS Quarterly Review, December 2011)
Rating agencies have downgraded a large number of banks since the spring of 2011. In explaining these actions, agency reports and market commentary have referred to the link between financial institutions and sovereigns as an important driver of banks' creditworthiness. The purpose of this box is to illustrate that agencies have perceived this link as evolving differently across countries. In certain cases, recent bank downgrades have accompanied sovereign downgrades, which is consistent with an increased interdependence between the financial health of financial institutions and that of their sovereign. By contrast, bank downgrades in other countries reflect policy initiatives to wean banks off government support.
In principle, a sovereign could affect both the financial-strength rating of a bank, which captures its intrinsic capacity to remain solvent, and the all-in rating, which incorporates also the strength and likelihood of external support.1 A troubled sovereign can put downward pressure on the financial-strength rating of its lenders by increasing their probability of default and impairing their access to funding markets. And the weakened finances of such a sovereign reduce its capacity to provide support, pushing banks' all-in ratings down towards the underlying financial-strength ratings. In turn, a reduced willingness to put taxpayer money at risk would also reduce rating enhancements due to sovereign support, and thus banks' all-in ratings, even if financial-strength ratings remained the same.
In a sample of some 50 banks, most of the all-in downgrades that the three major rating agencies (Fitch, Moody's and Standard & Poor's) have announced over the last half-year have been for European institutions (Table A). By contrast, there have been no all-in upgrades. Two parallel developments are likely to have contributed to these rating actions. In some European countries, the sovereigns have experienced severe financial difficulties. In others, authorities have made explicit commitments to reduce their support to banks and have backed these commitments with bank resolution schemes.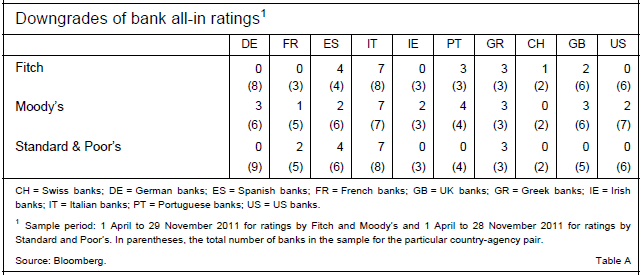 In order to delve deeper into the potential reasons for the recent all-in downgrades, it is necessary to also examine banks' financial-strength ratings and the corresponding sovereign ratings. A consistent set of such ratings is available from Fitch and Moody's only. Taken together, they suggest that the two agencies distinguish three groups of countries according to the evolution of the link between sovereign and bank finances (Graph A).
For countries in the first group, this link has changed little. Over the last half-year, the sovereigns in these countries have maintained their top ratings and, in most cases, stable rating outlooks. Likewise, the all-in ratings of banks from these countries or the rating enhancements due to official support have not changed. France belongs to this group according to both agencies and is joined by Switzerland according to Moody's or Germany and the United States according to Fitch.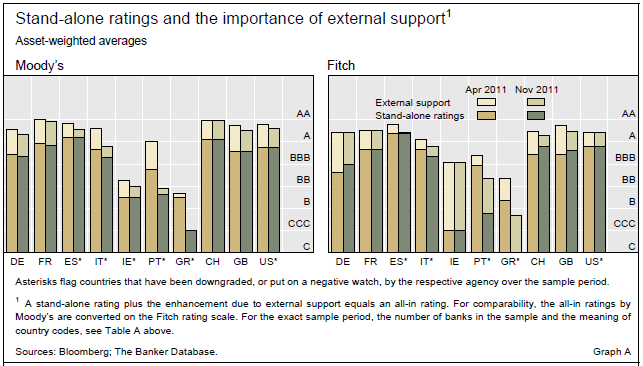 The second group comprises sovereigns that the rating agencies perceive as having financial difficulties, and hence a reduced capacity to provide support to banks. For the countries in this group, rating actions over the last half-year suggest that the prolonged crisis has strengthened the interdependence between sovereign and bank health. At least one agency has downgraded the sovereigns in the group or has assigned a negative outlook to their ratings, which has depressed the perceived official support to banks and thus their all-in ratings.2 And in certain cases, exposures to troubled sovereigns have contributed to the downgrade of banks' financial-strength ratings as well. According to both agencies, Greece, Italy, Portugal and Spain belong to this group. They are joined by Ireland and the United States according to Moody's.3
Finally, the two agencies view the countries in the third group as financially stable but with a reduced willingness to provide public support to banks, which suggests a decoupling of sovereign and bank health. These countries have maintained their top sovereign ratings with a stable outlook. At the same time, banks headquartered there have seen their all-in ratings deteriorate, even though their financial-strength ratings have remained stable or improved. The United Kingdom belongs to this group according to both agencies and is joined by Switzerland according to Fitch or Germany according to Moody's.
1 See F Packer and N Tarashev (2011), "Rating methodologies for banks", BIS Quarterly Review, June; and Committee on the Global Financial System (2011), "The impact of sovereign credit risk on bank funding conditions", CGFS Papers, no 43, July.
2 The only exception stems from the Fitch ratings for Greek banks. Currently at the lowest possible level on a financial-strength basis, these ratings are boosted significantly on an all-in basis by perceived sovereign support.
3 Fitch had downgraded the Irish sovereign and banks before the start of the sample period, April 2011.