Maturity structure of domestic central government debt in emerging market economies
BIS Quarterly Review
 | 
06 June 2011
(Extract from pages 22-23 of BIS Quarterly Review, June 2011)
The Committee on the Global Financial System (CGFS) has collected figures on the maturity structure of domestic central government debt outstanding in emerging market economies (EMEs). They show that the average maturity of such debt outstanding remained stable in most countries between 2008 and 2010 (Table A), notwithstanding the fact that the global financial crisis deeply affected financial markets for issuers, including sovereign borrowers. The distribution of the average (remaining) maturity of the domestic central government debt stock across countries shows three countries with an average maturity greater than 10 years, 10 countries with an average maturity between five and 10 years, and 10 countries with an average maturity of less than five years.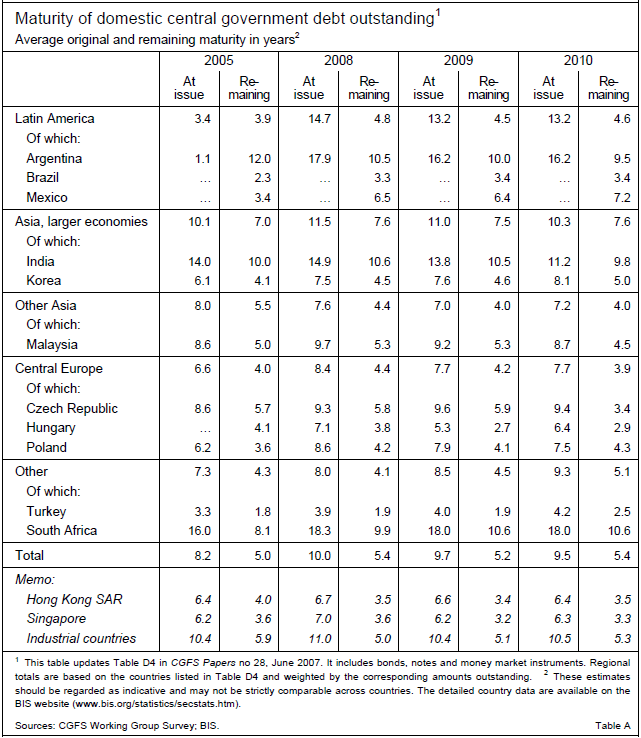 Two countries that saw a notable shortening of maturities were the Czech Republic and Hungary. In the Czech Republic, the average maturity of domestic central government debt outstanding fell from 5.8 to 3.4 years between 2008 and 2010. In Hungary it fell from 3.8 to 2.9 years over the same period. This coincided with significant increases in gross government debt, from 30% to 40% of GDP in the Czech Republic and from 72% to 80% of GDP in Hungary.1
The amount of EME domestic central government debt outstanding grew to almost $4.3 trillion at the end of 2010 (Table B). More than half of the increase took place in 2009, a year of exceptional government debt issuance in Asia, Latin America and other EMEs as governments tried to pursue a countercyclical fiscal policy. Notwithstanding this government activism, domestic central government debt expanded by less than the overall stock of domestic debt. Other sectors of the economy, including central banks through their issuance of money market instruments, increased their issuance even more than governments, whose share of outstanding domestic debt fell to 48.4% in 2010, from 51.5% in 2007. In Asia, the corporate sector was the most dynamic borrower in domestic debt markets.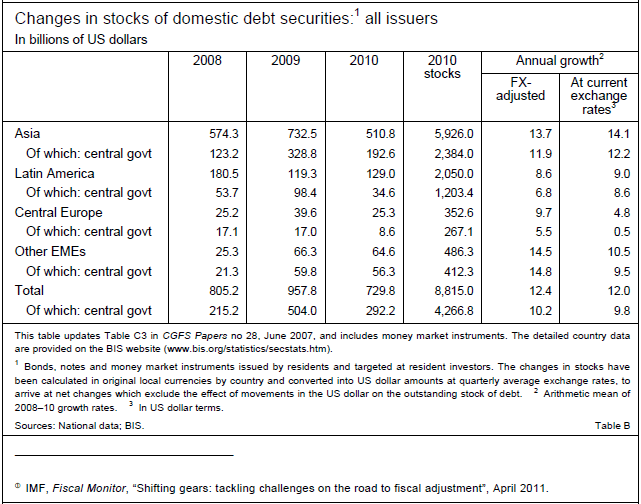 ---
1 IMF, Fiscal Monitor, "Shifting gears: tackling challenges on the road to fiscal adjustment", April 2011.