BIS Innovation Hub and SWIFT announce winners of ISO 20022 and API hackathon
Press release
|
25 March 2021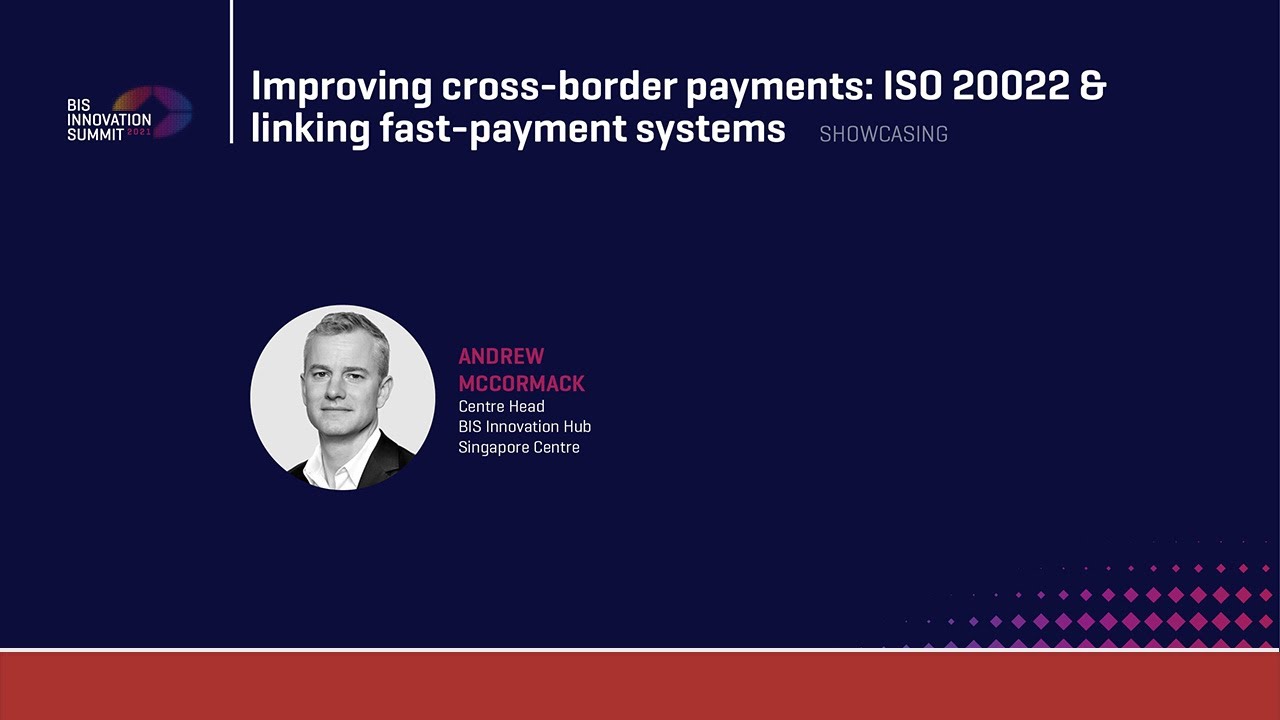 Winners of the ISO 20022 Hackathon (with BIS Innovation Hub & SWIFT)
(00:19:51)
25 Mar 2021
BIS Innovation Summit 2021
The BIS Innovation Hub is supporting the CPMI and FSB roadmap to improve cross-border payments. In March 2021 we partnered with SWIFT to run a week-long hackathon focussed on using ISO 20022 messaging and modern APIs to build better cross-border payment processes.
Three winners of hackathon to highlight potential of the new ISO 20022 payments standard and APIs to enhance cross-border payments.
Winning firms Atomic Wire, Mojaloop and The Isonauts (Virtusa & AWS) presented solutions for synchronising foreign exchange payments, bridging the "last mile" of cross-border payments, and resolving data correction and validation difficulties.
Winning solutions showcased at BIS Innovation Summit 2021.
The BIS Innovation Hub and SWIFT today announced the winners of the ISO 20022 hackathon, which invited teams to build and showcase solutions that enhance cross-border payments, using the ISO 20022 standard for payments messages and application programming interfaces (APIs).
The winners were chosen by a panel including experts from the Bank of England, the Committee on Payments and Market Infrastructures, DBS Bank (Singapore), European Central Bank, Federal Reserve System, Innovate Finance (UK), New Payments Platform (Australia), Payments Canada, SWIFT, and Swish (Sweden).
Atomic Wire won for its highly scalable stream processing solution that performs real-time atomic settlement of FX transactions, eliminating settlement risk and removing barriers to adopting payment-versus-payment for cross-border payments.
Mojaloop won for its solution for bridging the "last mile," bringing cross-border payments to users in emerging market economies who rely on mobile money transfer systems.
The hackathon highlighted the benefits of ISO 20022, which is being adopted by large parts of the world's payment infrastructures over the next four years. Teams could adapt an existing product to make use of ISO 20022 or build and demonstrate new solutions leveraging the standard and APIs using SWIFT's API sandbox.
The ISO 20022 standard for payment messages is being adopted in some of the biggest global and domestic payment systems, so we're delighted that 60 teams from across the payments and technology industry came forward to learn about the standard and apply it to improve cross-border payments.
SWIFT is pleased to have collaborated with the BIS Innovation Hub to bring together teams from across the financial world to devise creative new payments solutions. This success clearly demonstrates the appetite across the industry to leverage ISO 20022 and APIs to deliver fast and frictionless cross-border payments.
The winning teams are showcasing their solutions at the BIS Innovation Summit to a global audience including key payments industry players and central bankers.