The Holistic Framework - Executive Summary
FSI Executive Summaries
|
28 May 2020
The Holistic Framework (HF) was adopted by the International Association of Insurance Supervisors (IAIS) in November 2019 with immediate implementation in 2020. The objective is to provide an international framework for insurance supervisors to support global financial stability through the assessment and mitigation of systemic risk in the global insurance sector.
The three components of the HF are the supervisory material (SM), a global monitoring exercise (GME) and implementation assessment (IA) activities to address potential build-up of systemic risk. The HF is part of a package of reforms completed by the IAIS that will enable effective cross-border supervision of insurance groups and contribute to global financial stability.
Suspension of G-SII identification
The implementation of the HF builds on the previous IAIS approach to assess systemic risk in the insurance sector, where a set of predetermined policy measures was applied only to a small group of identified global systemically important insurers (G-SIIs). The HF provides an improved systemic risk assessment and mitigation resulting in suspension of the identification of G-SIIs, which will be revisited by the Financial Stability Board (FSB) in November 2022.
Systemic risk in insurance
Financial stability in the insurance sector may be compromised by the distress or disorderly failure of an individual insurer and the common activities or exposures of a group of insurers. According to the IAIS, the key exposures in the insurance sector that may lead to a systemic impact are:
liquidity risk
interconnectedness between insurers and with other participants in the financial system through both macroeconomic and counterparty exposure
limited substitutability of insurance activities after the distress or failure of an insurer
These exposures may negatively impact other market participants or the real economy via asset liquidation, indirect or direct interlinkages with other institutions or the interruption of critical functions. The HF takes into account both systemic risk stemming from individual insurers and from collective exposures or insurer activities while considering cross-sectoral aspects.
The three components of the Holistic Framework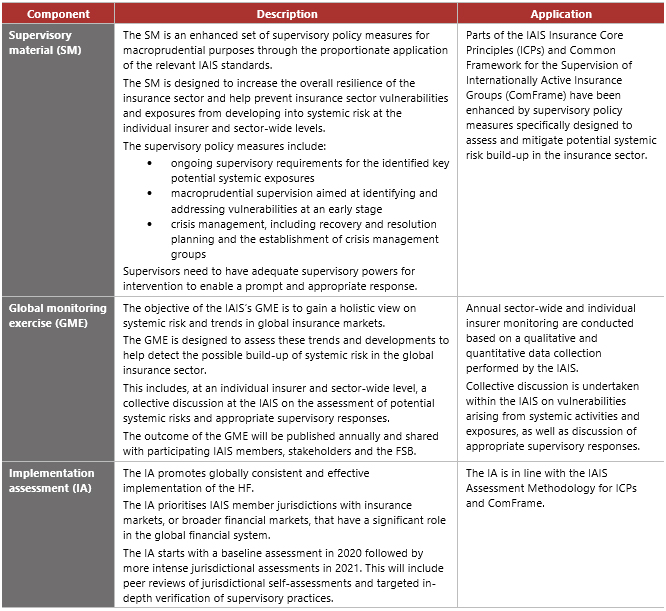 ---
* This Executive Summary and related tutorials are also available in FSI Connect, the online learning tool of the Bank for International Settlements.