Organisation and governance
The Global Economy Meeting (GEM) is the governing body of the CPMI. The CPMI reports to the GEM and, through the Economic Consultative Committee (ECC), seeks the GEM's endorsement for major decisions.
The Committee is composed of representatives of its members and meets about three times per year. CPMI members may appoint one representative and one alternate to attend Committee meetings. Decisions are reached by way of consensus among members.
The Committee may establish working groups to perform specifically assigned tasks or functions.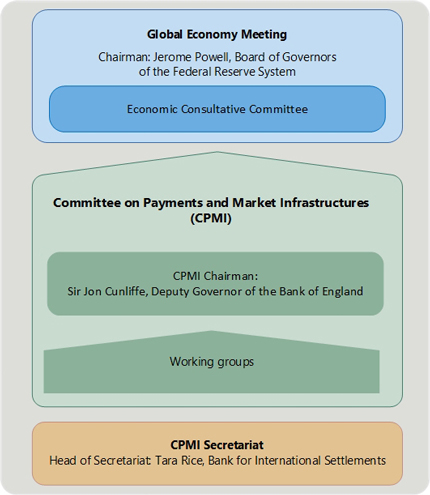 See the CPMI charter to find out more about the CPMI's organisation and governance.
Cooperation with other standard-setting bodies
The CPMI cooperates with other standard setters (in particular the International Organization of Securities Commissions (IOSCO) and the Basel Committee on Banking Supervision (BCBS)), other central bank bodies (such as the Committee on the Global Financial System (CGFS)), international financial institutions and public sector bodies on matters falling within its mandate to enhance coordination of policy development and implementation.
The CPMI is a member of the Financial Stability Board (FSB) and participates in the FSB's work to coordinate and promote the implementation of effective regulatory, supervisory and other financial sector policies. In the context of its activities the CPMI maintains contact with many global payment system providers, industry associations and regulatory authorities.
Outreach activities
The CPMI has developed relationships with central banks all over the world. In collaboration with the central banks and the BIS, it has published a number of Red Books on payment systems in non-CPMI countries.
If so requested and whenever possible, the CPMI provides expertise on payment system issues and organisational support to regional central banking organisations by providing speakers and/or co-organising seminars and workshops. For instance, it works with the Centro de Estudios Monetarios Latinoamericanos, the Gulf Cooperation Council, the Arab Monetary Fund, the South Asian Association for Regional Cooperation, the Executive's Meeting of East Asia-Pacific Central Banks, the South East Asian Central Banks, the Southern African Development Communicty and the Macroeconomic and Financial Management Institute of Eastern and Southern Africa.
Chair
Sir Jon Cunliffe, Deputy Governor of the Bank of England
Previous chairs:
Benoît Cœuré, Member of the Executive Board of the European Central Bank (2013-19)
Paul Tucker, Deputy Governor, Financial Stability of the Bank of England (2012-13)
William C Dudley, President and CEO of the Federal Reserve Bank of New York (2009-12)
Timothy Geithner, President and CEO of the Federal Reserve Bank of New York (2005-09)
Tommaso Padoa-Schioppa, Member of the Executive Board of the European Central Bank (2000-05)
Wendelin Hartmann, Member of the Board of the Deutsche Bundesbank (1998-2000)
William McDonough, President and CEO of the Federal Reserve Bank of New York (1994-98)
Wayne Angell, Member of the Board of Governors of the Federal Reserve System (1990-94)
Head of Secretariat
Tara Rice, Bank for International Settlements