Basel Committee organisation and governance
Updated 30 December 2016
The governance structure of the BCBS comprises
The Committee
Groups
The Chairman
The Secretariat
Close oversight of the Basel Committee is conducted through the Group of Central Bank Governors and Heads of Supervision (GHOS).
About the Basel Committee
Organisation and governance
Basel Committee organisation
The BCBS has in place a rotating chairmanship to direct the Committee's standard-setting and research-based groups; and a Secretariat, hosted by the Bank for International Settlements. The BCBS reports to the GHOS - its oversight body - and seeks its endorsement for major decisions.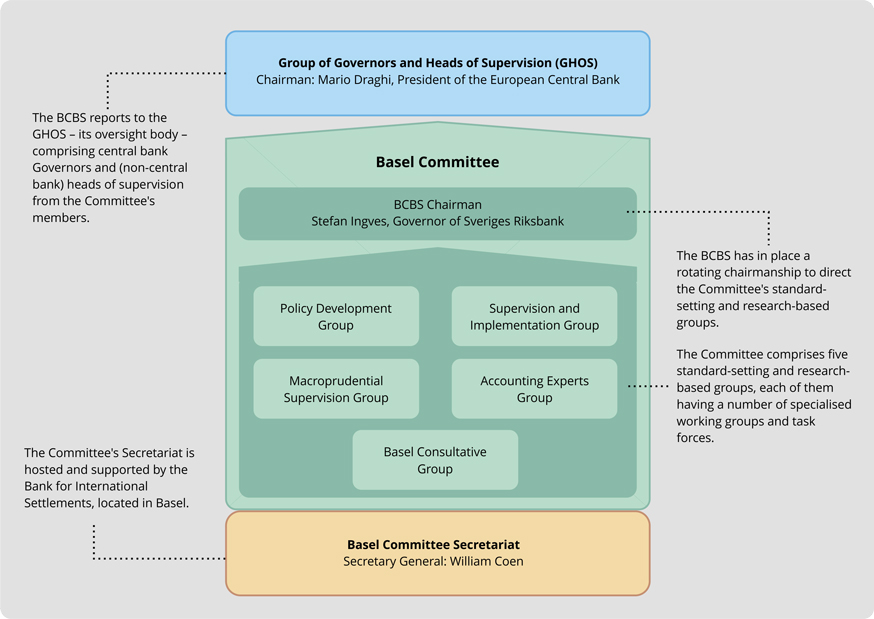 Chair of the Basel Committee
Secretary General
About the Basel Committee Chair
The Chair is appointed by the GHOS for a term of three years that can be renewed once. The Chair's main responsibilities are to direct the work of the Committee in accordance with the BCBS mandate, including to:
convene and chair Committee meetings (where attendance is not possible, the Chair may designate the Secretary General to chair the meeting on his/her behalf)
monitor the progress of the BCBS work programme and provide operational guidance between meetings to carry forward the decisions and directions of the Committee
report to the GHOS when appropriate
represent the BCBS externally and be the principal spokesperson for the BCBS

Past Chairs
2006-11
Nout Wellink, President, Netherlands Bank
2003-06
Jaime Caruana, Governor, Bank of Spain
1998-03
William J McDonough, President, Federal Reserve Bank of New York
1997-98
Tom de Swaan, Executive Director, Netherlands Bank
1993-97
Tommaso Padoa-Schioppa, Deputy Director General, Bank of Italy
1991-93
E Gerald Corrigan, President, Federal Reserve Bank of New York
1988-91
Huib J Muller, Executive Director, Netherlands Bank
1977-88
Peter Cooke, Associate Director, Bank of England
1974-77
Sir George Blunden, Executive Director, Bank of England