RCAP Jurisdictional assessments: regulatory implementation consistency
Updated 12 July 2023
Jurisdictional assessments review the extent to which domestic regulations in each member jurisdiction are aligned with the minimum regulatory standards agreed by the Committee (more about the RCAP remit and methods). The results of each assessment are published in a separate report on the specific jurisdiction.
See also: RCAP on timeliness: Basel III implementation dashboard on the adoption of the Basel regulatory framework - a high-level view of Basel Committee members' progress in adopting Basel III regulations
28 jurisdictions covering 90% of the world's banking assets

Summary of member assessments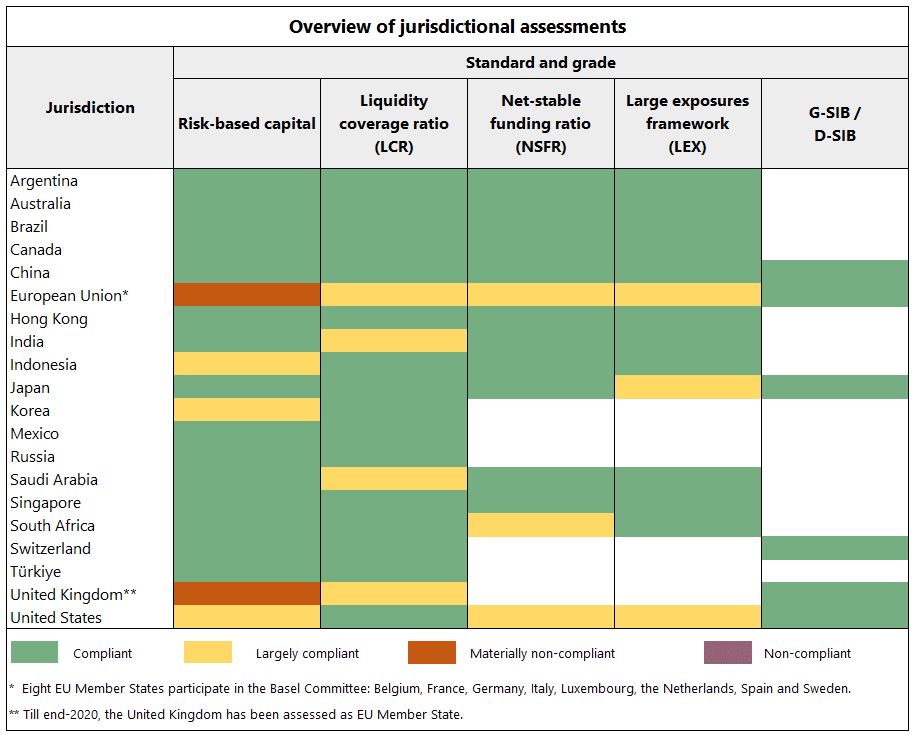 Assessment of implementation of Basel III capital regulations (2012-16): all members' implementation of the risk-based capital framework has been reviewed.
Assessment of G-SIB / D-SIB requirements (2016): the implementation of all jurisdictions that were home to G-SIBs in 2016 has been reviewed.
Assessments of implementation of the Basel III liquidity regulations (2014-17): all members' implementation of the liquidity coverage ratio (LCR) has been reviewed.
Jurisdictional assessments of NSFR and LEX global standards started in 2018 and resumed in late 2021 after being suspended in March 2020 following the outbreak of Covid-19.