RCAP on consistency: jurisdictional assessments
Jurisdictional assessments review the extent to which domestic regulations in each member jurisdiction are aligned with the minimum regulatory standards agreed by the Committee (more about the RCAP remit and methods). The results of each assessment are published in a separate report on the specific jurisdiction.
See also: The latest monitoring report on the adoption of the Basel regulatory framework - a high-level view of Basel Committee members' progress in adopting Basel III regulations
28 jurisdictions covering 90% of the world's banking assets

Summary of member assessments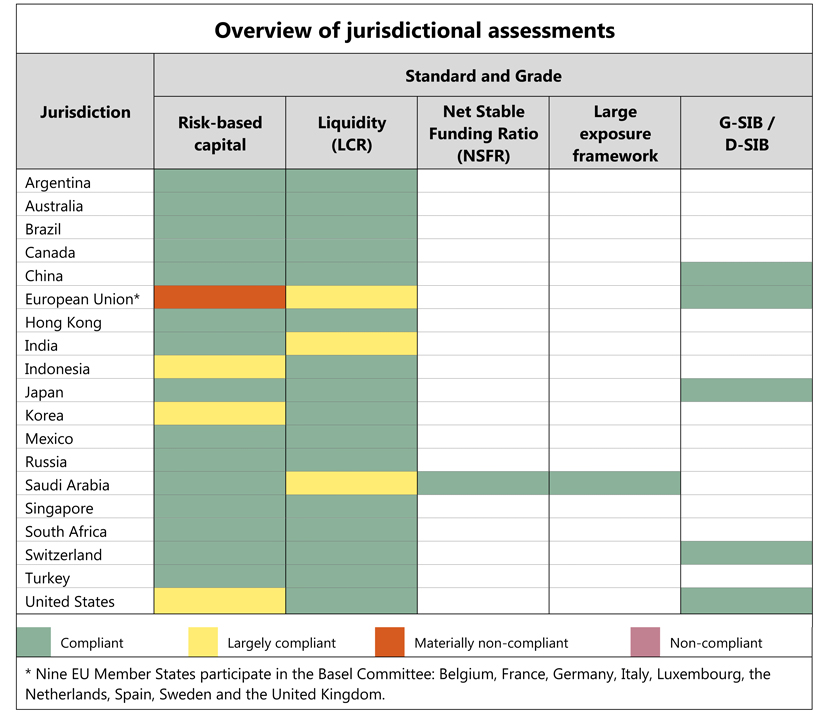 Schedule of member assessments
Assessment of implementation of Basel III capital regulations (2012-16): all members' implementation of the risk-based capital framework has been reviewed.
Assessments of implementation of the Basel III regulations started in 2014 and will finish during 2017.
Assessments of implementation of Basel III standards relating to the Net Stable Funding Ratio, the Leverage Ratio and the large exposures framework will start from 2018.