The global bank for central banks
As a hub for central banks and other financial regulatory and supervisory authorities across the globe, the BIS is in a unique position to respond to their needs. It does this through its work in three main areas: economic research and analysis, banking services and international cooperation.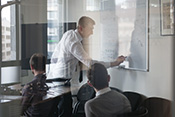 Through its research, analysis and statistics, the BIS supports central bank cooperation and provides an independent voice to sound policymaking.
BIS research emphasises the links between the real economy and the financial system, global rather than country-specific aspects, and longer-term drivers of activity. It seeks to strike a balance between responsiveness to short-term, conjunctural issues and proactivity in exploring themes of strategic importance for central banks and regulatory and prudential authorities.
Its research networks for Asia and the Pacific and for the Americas place the Bank in a unique position to undertake research and collaborate with central banks and supervisory authorities from these regions.
The BIS also compiles and disseminates international statistics on financial institutions and markets.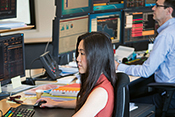 As an institution owned and governed by central banks, the BIS is well placed to understand the needs of reserve managers - their primary focus on safety and liquidity, as well as the evolving need to diversify their exposures and obtain a competitive return.
To meet those needs, the Bank provides credit, gold and foreign exchange intermediation, and asset management services, while administering its own capital.
The financial services of the BIS are exclusively offered to central banks, monetary authorities and international organisations, mainly to assist them in the management of their foreign exchange assets. An integrated risk management function ensures that financial and operational risks are properly measured and controlled.
Through the Basel Process, the BIS acts as a forum for discussion and a platform for cooperation among policymakers, to foster monetary and financial stability.
In this role, the Bank contributes its expertise in economic research and analysis, its practical experience in banking and its knowledge in regulatory and supervisory issues, adding value to the discussions and cooperative efforts.
In turn, this close interaction with policymakers informs the work of the BIS and allows it to respond to their needs more effectively, in a mutually enriching dialogue that enhances the collaborative process.