Regulating big tech: between financial regulation, anti-trust and data privacy
11th BIS Research Network meeting, 6-7 October 2021

How should authorities regulate big tech to promote the public interest?
Large technology firms (big techs) are rapidly expanding their footprint in the payment system and in financial services. Big tech services can bring welcome innovation and competition to financial services, helping to enhance efficiency and financial inclusion. But they also raise thorny issues for regulators.
For a start, their heavy use of customer data (through the data-network-activities, or DNA, feedback loop) raises new challenges around financial stability, competition and data protection, which fall under the mandates of different public authorities. With user data from their existing business lines in e-commerce and social media, and by harnessing the inherent network effects in digital services, big techs can scale up rapidly in payment, credit, insurance and investment services. And proposals for global stablecoins combine these issues with the risk of fragmentation of the monetary system, with a reduced role for central bank money at the heart of the system.
This conference brought together central bank Governors, senior policymakers, researchers from central banks and academia, and other stakeholders to discuss how best to regulate big tech in finance to promote the public interest.
Join the conversation on social media using #BISResearchConference #RegulatingBigTech
Agenda
All times in Central European Summer Time (CEST)
Day 1 (6 October): Big tech between financial regulation and anti-trust
13:00 – 13:15

Welcome and introduction

Agustín Carstens (General Manager, BIS)
Speech

13:15 – 13:55

Keynote speech: The challenges of big tech in finance

Jason Furman (Aetna Professor of the Practice of Economic Policy, Harvard Kennedy School)
Presentation

14:00 – 14:50

Research session: Implications of big tech in finance

Chair: Hyun Song Shin (Economic Adviser / Head of Research, BIS)

Jorge Padilla (Senior Managing Director, Compass Lexecon) on "Big tech banking" (with Miguel de la Mano)
Paper | Presentation
Karen Croxson (Head of Research, Financial Conduct Authority) on "Platform-based business models and financial inclusion" (with Jon Frost, Leonardo Gambacorta, Tommaso Valletti)
Paper | Presentation

15:00 – 15:55

Policy panel: Competition issues around big tech in finance

Chair: Benoît Cœuré (Head, BIS Innovation Hub)

Elsie Addo Awadzi (Deputy Governor, Bank of Ghana)

Tobias Adrian (Financial Counsellor and Director, International Monetary Fund)

Douglas Arner (Kerry Holdings Professor in Law, University of Hong Kong)

Catherine Batchelor (Director, Digital Markets Unit, Competition and Markets Authority)

Cristina Caffarra (Senior Consultant, Charles River Associates)

16:00 – 16:45

Fintech, big tech and bank collaboration in payments in India

Moderator: Fernando Restoy (Chair, Financial Stability Institute)

Dilip Asbe (Managing Director and CEO, National Payments Corporation of India)
Day 2 (7 October): Big tech, competition and privacy in the digital age
13:00 – 13:20

Keynote speech: China's experience with regulating big tech

Yi Gang (Governor, People's Bank of China)

13:20 – 14:50

Governors' panel: Big tech and data in finance

Moderator: Gillian Tett (Chair of the editorial board and editor-at-large, US, Financial Times)

Roberto Campos Neto (Governor, Central Bank of Brazil)

Alejandro Díaz de León (Governor, Bank of Mexico)

Klaas Knot (President, Netherlands Bank)

Nor Shamsiah Mohd Yunus (Governor, Central Bank of Malaysia)

François Villeroy de Galhau (Governor, Bank of France)

15:00 – 15:50

Research session: Data in digital markets and money

Chair: Jean-Charles Rochet (Geneva School of Economics & Management)

Daron Acemoglu (Institute Professor, Massachusetts Institute of Technology) on "Harms of AI"
Paper | Presentation
Markus Brunnermeier (Edwards S Sanford Professor of Economics and Director of the Bendheim Center for Finance, Princeton University) on "The digitalization of money" (with Harold James and Jean-Pierre Landau)
Paper | Presentation

16:00 – 17:00

Policy panel: Bringing data protection, competition policy and financial regulation together

Chair: Stijn Claessens (Head of Financial Stability Policy, BIS)

Alberto Bacchiega (Director – Financial Services, European Commission)

Diane Coyle (Bennett Professor of Public Policy, University of Cambridge)

Urszula McCormack (Partner, King & Wood Mallesons)

Aiaze Mitha (Digital Ambassador, UN Capital Development Fund)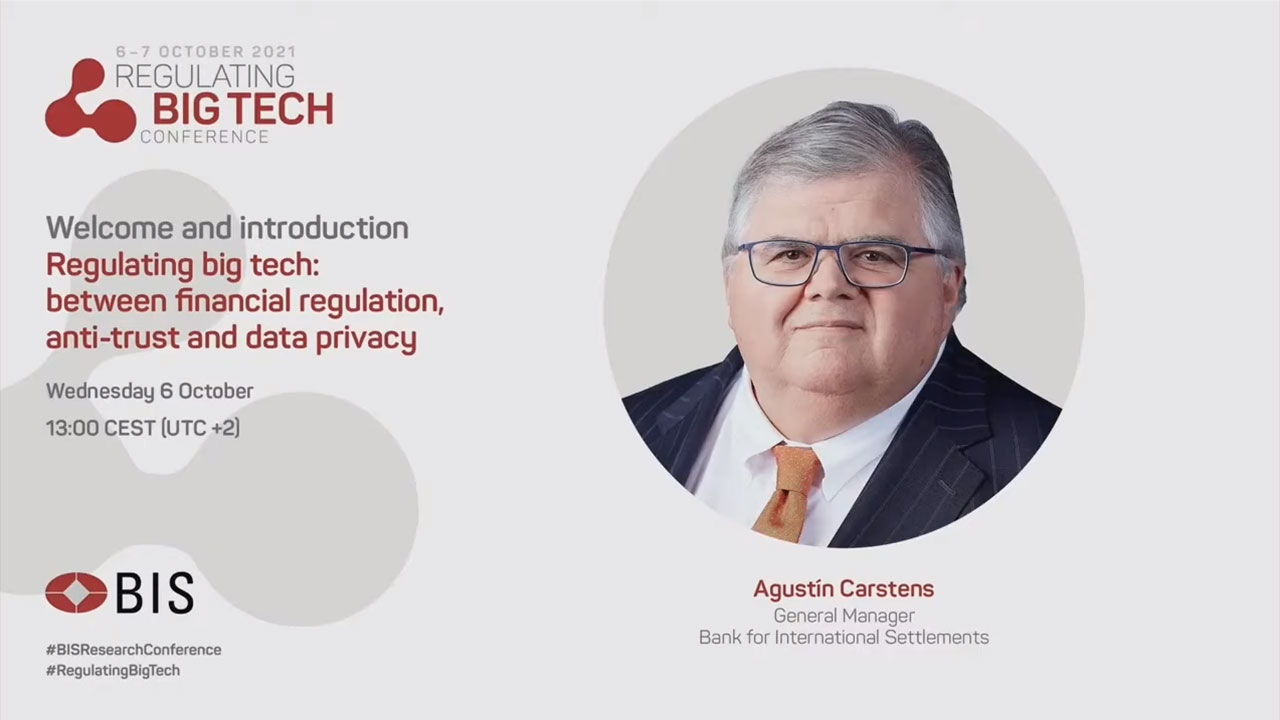 Regulating big tech in the public interest
(00:16:30)
6 Oct 2021
Regulating big tech: between financial regulation, anti-trust and data privacy
Welcome remarks and introduction to the "Regulating big tech: between financial regulation, anti-trust and data privacy" conference.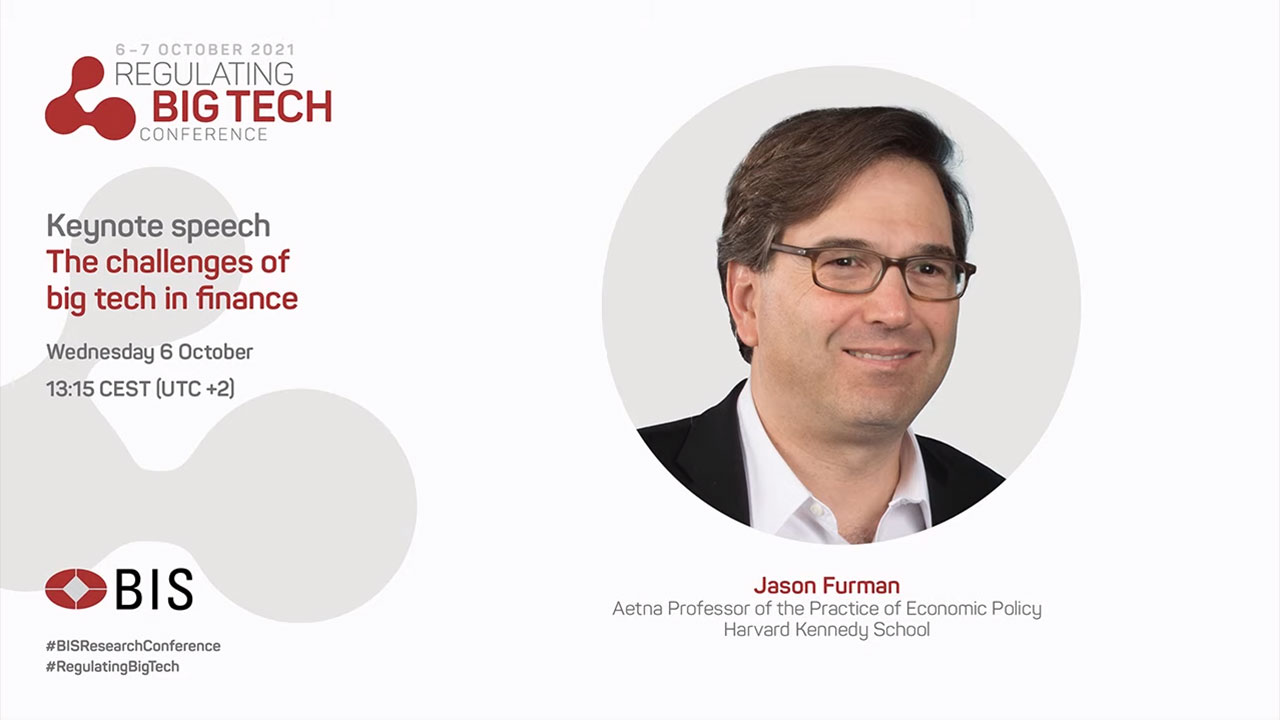 The challenges of big tech in finance
(00:40:20)
6 Oct 2021
Regulating big tech: between financial regulation, anti-trust and data privacy
Keynote speech by Jason Furman (Harvard Kennedy School) at the "Regulating big tech: between financial regulation, anti-trust and data privacy" conference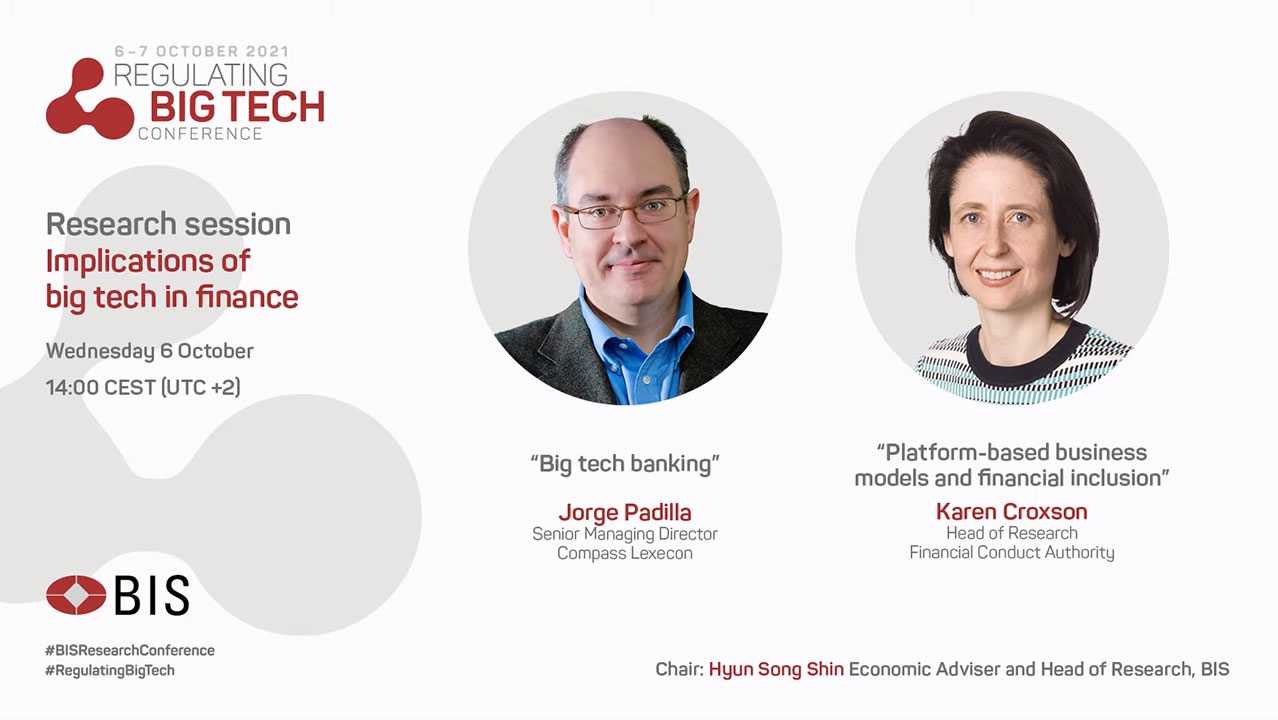 Research session: Implications of big tech in finance
(00:57:36)
6 Oct 2021
Regulating big tech: between financial regulation, anti-trust and data privacy
Chair: Hyun Song Shin (Economic Adviser / Head of Research, BIS)
Jorge Padilla (Senior Managing Director, Compass Lexecon)
Karen Croxson (Head of Research, Financial Conduct Authority)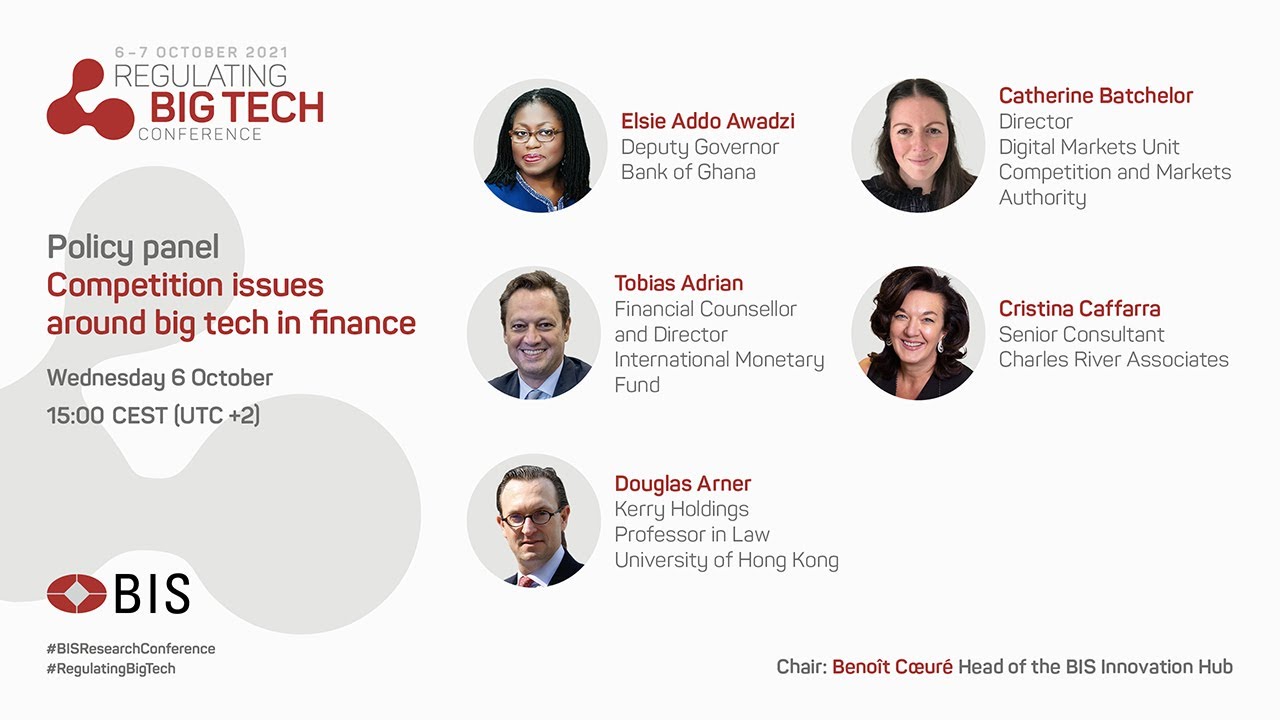 Policy panel: Competition issues around big tech in finance
(00:56:13)
6 Oct 2021
Regulating big tech: between financial regulation, anti-trust and data privacy
Chair: Benoît Cœuré (Head, BIS Innovation Hub)
Elsie Addo Awadzi (Deputy Governor, Bank of Ghana)
Tobias Adrian (Financial Counsellor and Director, International Monetary Fund)
Douglas Arner (Kerry Holdings Professor in Law, University of Hong Kong
Catherine Batchelor (Director, Digital Markets Unit, Competition and Markets Authority)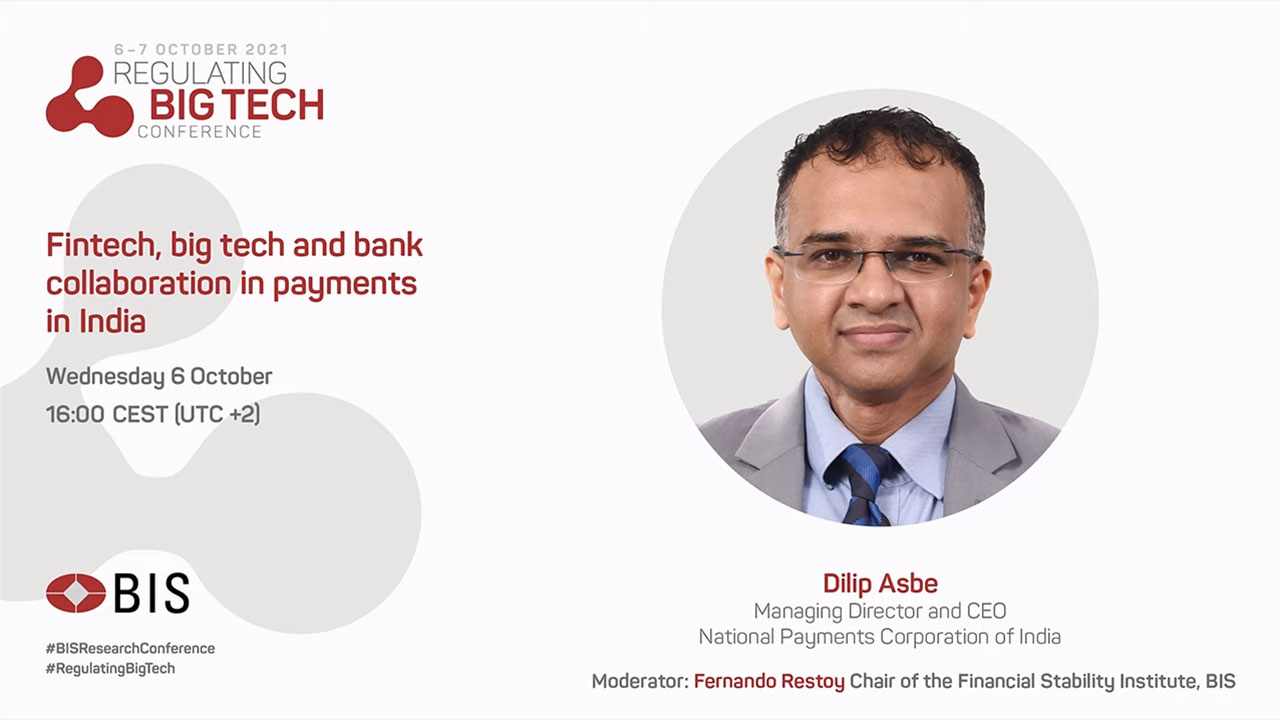 Fintech, big tech and bank collaboration in payments in India
(00:47:18)
6 Oct 2021
Regulating big tech: between financial regulation, anti-trust and data privacy
Moderator: Fernando Restoy (Chair, Financial Stability Institute)
Dilip Asbe (Managing Director and CEO, National Payments Corporation of India)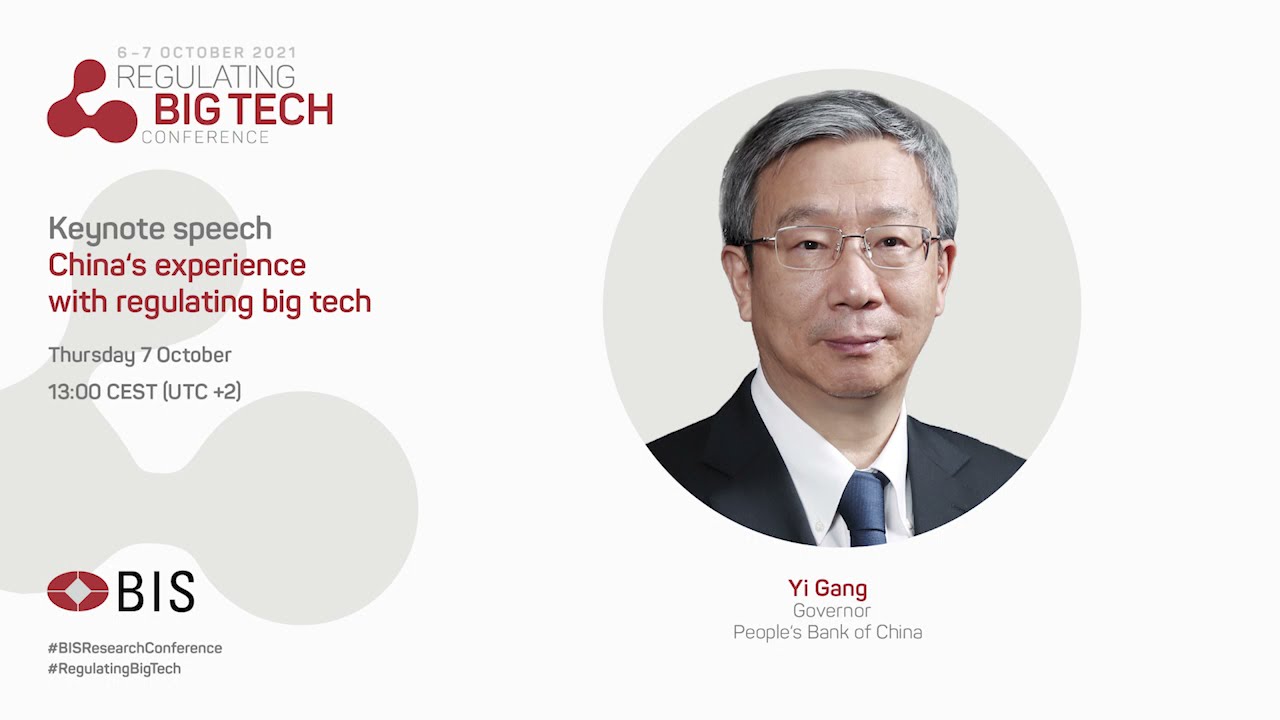 China's experience with regulating big tech
(00:20:59)
6 Oct 2021
Regulating big tech: between financial regulation, anti-trust and data privacy
Keynote speech by Yi Gang (Governor, People's Bank of China) at the "Regulating big tech: between financial regulation, anti-trust and data privacy" conference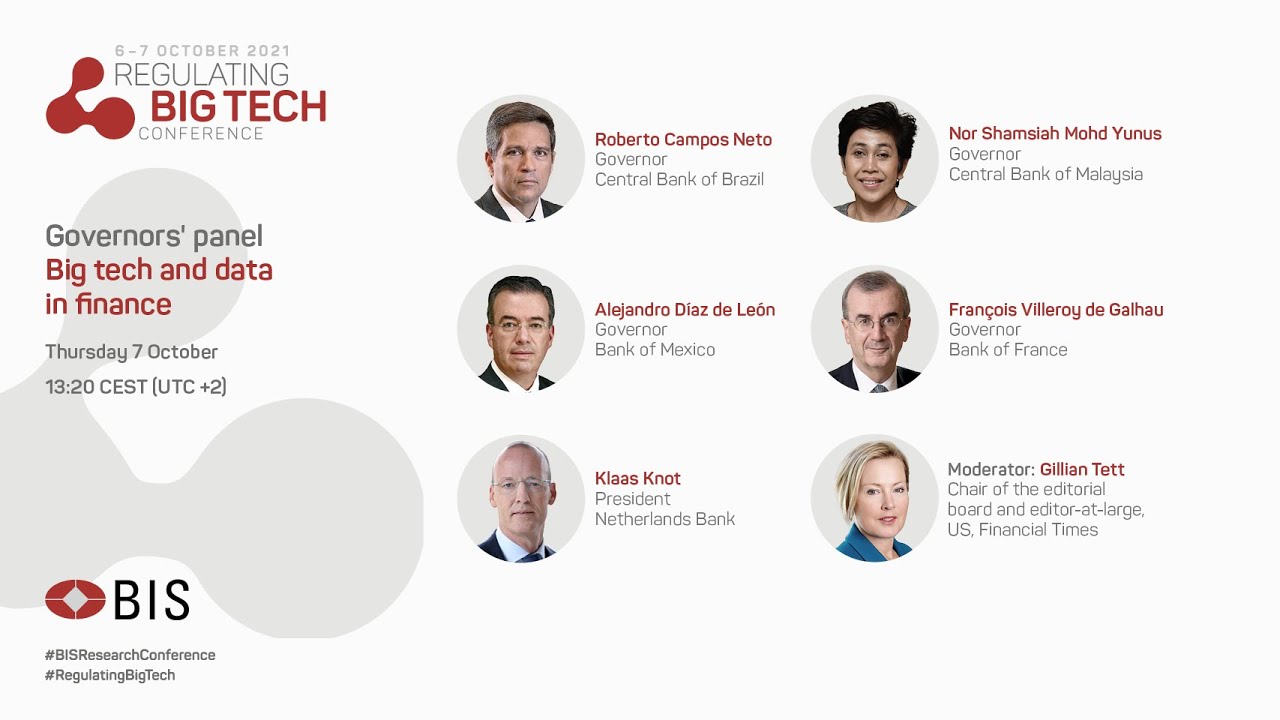 Governors' panel: Big tech and data in finance
(01:29:33)
7 Oct 2021
Regulating big tech: between financial regulation, anti-trust and data privacy
Moderator: Gillian Tett (Chair of the editorial board and editor-at-large, US, Financial Times)

Roberto Campos Neto (Governor, Central Bank of Brazil)

Alejandro Díaz de León (Governor, Bank of Mexico)

Klaas Knot (President, Netherlands Bank)

Nor Shamsiah Mohd Yunus (Governor, Central Bank of Malaysia)

François Villeroy de Galhau (Governor, Bank of France)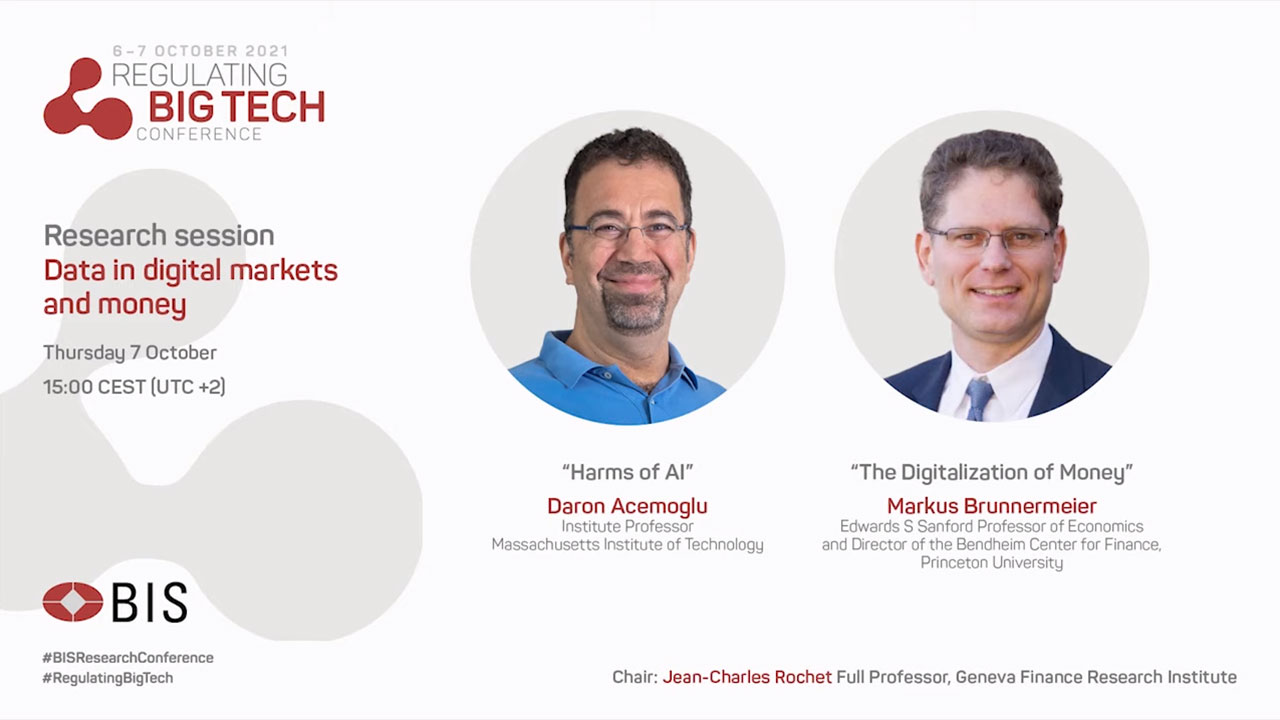 Research session: Data in digital markets and money
(00:51:43)
7 Oct 2021
Regulating big tech: between financial regulation, anti-trust and data privacy
Chair: Jean-Charles Rochet (Geneva School of Economics & Management)
Daron Acemoglu (Institute Professor, Massachusetts Institute of Technology)
Markus Brunnermeier (Edwards S Sanford Professor of Economics and Director of the Bendheim Center for Finance, Princeton University)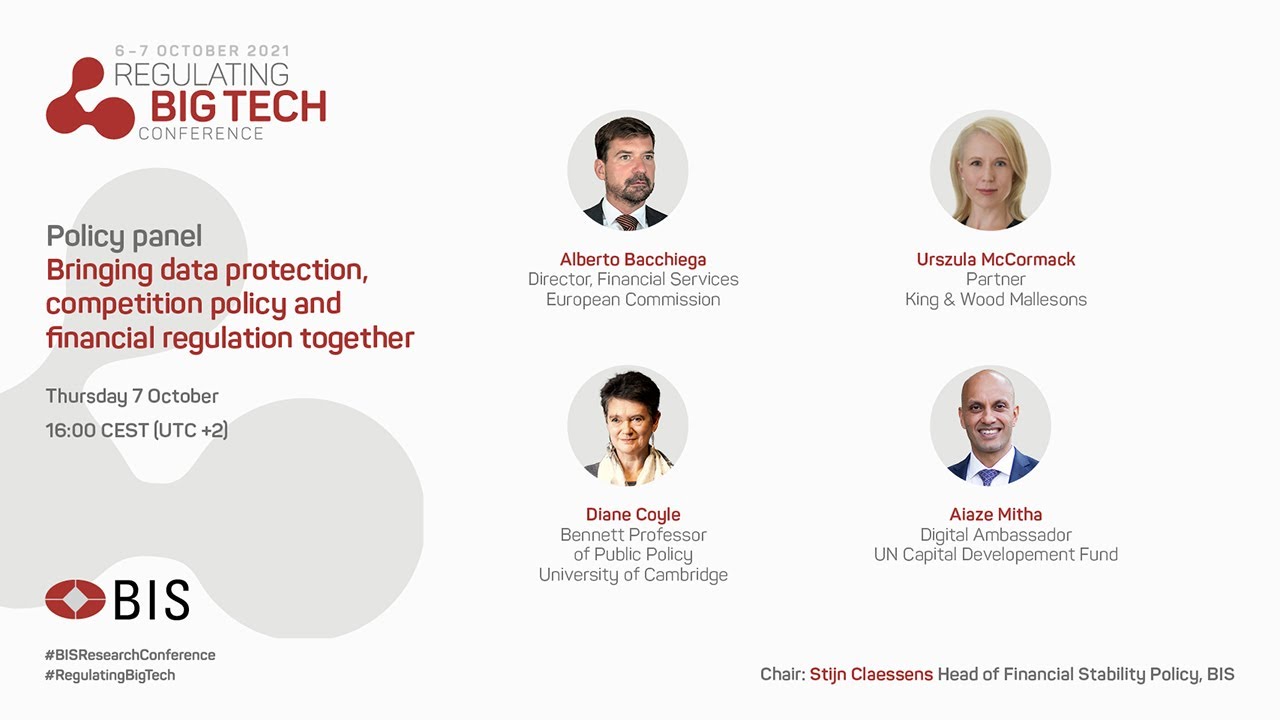 Policy panel: Bringing data protection, competition policy and financial regulation together
(01:01:59)
7 Oct 2021
Regulating big tech: between financial regulation, anti-trust and data privacy
Chair: Stijn Claessens (Head of Financial Stability Policy, BIS)
Alberto Bacchiega (Director – Financial Services, European Commission)
Diane Coyle (Bennett Professor of Public Policy, University of Cambridge)
Urszula McCormack (Partner, King & Wood Mallesons)